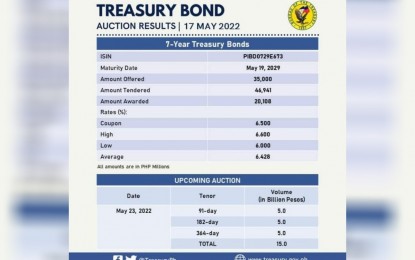 MANILA – The Bureau of the Treasury (BTr) partially awarded a fresh issuance of a seven-year Treasury bond (T-bond) auctioned on Tuesday after investors asked for high yield.
The coupon rate of the debt paper is at 6.5 percent while its average rate stood at 6.428 percent, way higher than the 3.674 percent fetched by a similar tenor previously.
The BTr offered the debt instrument for PHP35 billion and tenders amounted to PHP46.941 billion. The auction committee awarded PHP20.108 billion.
National Treasurer Rosalia de Leon earlier traced the increase of interest rates of government securities being offered to investors during the weekly auctions to anticipations for continued hikes in the Federal Reserve rates, which have been hiked by a total of 75 basis points since last March.
De Leon said investors are also eyeing an increase in the Bangko Sentral ng Pilipinas' (BSP) key rates given the expected acceleration of domestic inflation rate following its rise to 4.9 percent last April due in part to upticks in global oil and commodities prices.
The average inflation to date stood at 3.7 percent but last April's figure already exceeded the government's 2-4 percent target band,
BSP's policy-making Monetary Board (MB) will have a rate-setting meeting on Thursday, and it is widely expected to approve a 25 basis points increase in the central bank's key rates.
To date, the central bank's overnight reverse repurchase (RRP) rate is at record-low of 2 percent following the 200 basis points cut in 2020, which is part of the BSP's measures to encourage lending and ensure economic activities despite the impact of the pandemic. (PNA)