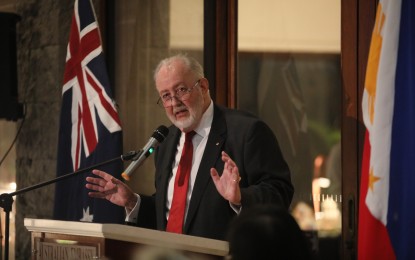 MANILA – The Philippines and Australia are set to elevate their bilateral relations to strategic partnership "at the end of the year," Australian Ambassador Steven Robinson AO said.
The envoy said this was the result of a series of talks and high-level engagements between the two nations over the past years, particularly the August 2021 Philippine-Australia Ministerial Meeting.
"What they did in August 2021 was to set up a pretty ambitious program, which talked about the areas of development that were involved in: peacebuilding, economic recovery, trade, security cooperation and the like. And what that has resulted in is that we're going to elevate our bilateral relationship to what's called a strategic partnership at the end of this year," he said at a reception hosted at his residence in Makati City on Tuesday night.
Robinson said this does not only reflect the expansion of cooperation between the two nations but also how Australia regards the Philippines as a close partner in the region.
Canberra and Manila's bilateral relationship is centered on development, education, people-to-people links, trade and investment, and defense.
This year, it also celebrates over 30 years of law enforcement partnership, focused on countering child exploitation and terrorism.
On education, Robinson said Australia is investing at least 90 million Australian dollars between 2017 and 2026 to help strengthen basic education in the Bangsamoro region.
"Peacebuilding too is important to Australia and what we do down in the south, in the BARMM really matters. We're a strong supporter of peace and development in Mindanao," he said.
"And that's going to be important in the future in terms of the stability not only of the Philippines but also the entire region," he added.
To note, more than 50 percent of the annual PHP3 billion Australian aid program goes to Mindanao to support the peace process, normalization, education, and conflict reduction.
Robinson said Australia would continue this close engagement with the Philippines under the incoming administration.
"I think it's pretty much as we have before, I don't think there's much change in the way in which we'll focus on the Philippines. The defense relationship is really important, the development assistance, the trade and investment is growing," he said.
Robinson said there are "enough reforms" by Manila in the last few years that would likely attract Australian investors to come in.
"What I'm seeing is lots of Australian companies wanting to come to the Philippines that haven't been here before, so I think that's an area of potential focus," he said.
Despite the pandemic, commercial ties between the two countries have flourished, according to Christopher Lim, Senior Trade and Investment Commissioner at the Australian Embassy in Manila.
For instance, agri-food exports from Australia to the Philippines rose 90 percent to 1.5 billion Australian dollars from 2020 numbers. Lim said the embassy has received many inquiries from Australian companies eyeing partners in the Philippines.
"The Australia-Philippines trade and investment relation has reached new heights, and we look forward to working with the business community to scale even greater heights for the full potential of our bilateral relationship," he said. (PNA)