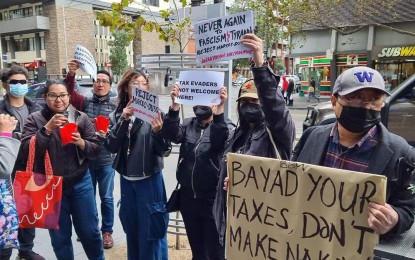 MANILA – Senator Ramon "Bong" Revilla Jr. reminded the small group of Filipinos in Australia who welcomed presumptive President Ferdinand "Bongbong" Marcos Jr. and his son with a protest on Wednesday that they should respect the majority's decision.
"Thirty-one million Filipinos in the Philippines and in the whole world cast their vote of trust and confidence on BBM. It seems their sense of patriotism, if their actions indeed spawned from it, is misguided. They ended up embarrassing only themselves," Revilla said in a statement.
As the co-chair of the Lakas-Christian Muslim Democrats (Lakas-CMD) which joined other political parties in supporting Marcos' presidential bid, Revilla said it was disheartening to know that while Marcos' term has yet to begin on the noon of June 30, it seems there are some who are already working to ensure he fails.
"We are in a crossroads. This is a crucial time for the nation, so all hands must be on deck. Let's stop shooting ourselves in the foot and instead rally behind our leader and our flag," Revilla said.
Revilla believes that the election results are a clear expression of the Filipinos' aspiration for Marcos' leadership and call for unity.
"This is the very reason why his administration must be given a chance," he added.
Around eight Filipinos based in Melbourne, Australia flocked outside the apartment where Marcos was believed to have been staying, bearing placards that read "Tyrants not welcome here!"
The protesters, who are members of Anakbayan Melbourne, said they were with the Kakampinks Victoria, a group also supporting Vice President Leni Robredo.
Marcos' spokesperson lawyer Vic Rodriguez called the move "embarrassing," saying it is not in the nature of Filipinos to embarrass their fellow in other countries. (PNA)