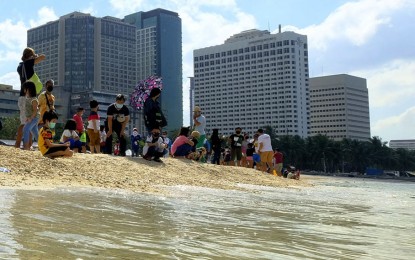 MANILA – A drop in the amount of fecal coliform has been monitored in Manila Bay's dolomite beach, according to the Manila Bay Site Coordinating and Management Office (MBSCMO).
In a webinar conducted by the Department of Environment and Natural Resources-National Capital Region (DENR-NCR), significant progress in the Manila Bay Rehabilitation was discussed, including the decline of the fecal contamination of water.
One of the speakers, Glenn Alvin Gustilo, Development Management Officer II, said as of May 4, the three stations of Dolomite beach have been observed with lower fecal coliform levels.
For instance, in Dolomite Station A, the level was found to have dropped to 1,600 mpn (most probable number) per 100 ml from 3.5 million mpn in 2020. Likewise, Station B has recorded 1,100 mpn per 100 ml from 2020's 9.2 million mpn; while Station C with just 920 from the previous 1.6-million mpn.
However, it has not yet reached the SB level, or the classification allowing the public to enjoy "bathing, swimming and skin diving, and as spawning areas for bangus and other similar species of fish."
"It's low, but, again, it's not yet on a class SB level. We're saying there's an improvement there because of the engineering interventions that have been applied in the dolomite [beach] to prevent the increase of fecal coliforms, and the entry of wastes in those areas," he said in Filipino.
Gustilo noted that for the dolomite beach to be allowable for recreational activities such as swimming, the coliform level must drop to 100 mpn per 100ml.
He said the DENR, together with all other agencies, involved local government units (LGUs), and other stakeholders have been persistently intensifying efforts to sustain gains and advance the rehabilitation.
"We have installed trash traps, we have distributed trash boats, there are trash rafts, trash nets, waste collector trike, trash bins to encourage our LGUs and barangays to conduct waterways cleanup," he said.
The Manila Bay Rehabilitation has three phases including cleanup and water quality improvement, rehabilitation and resettlement, as well as protection and sustainment.
DENR-NCR Regional Director Jacqueline Caancan insisted partaking in the rehabilitation efforts is very vital, considering the Philippines is an archipelagic country.
She also emphasized the need to "balance development and environmental integrity". (PNA)