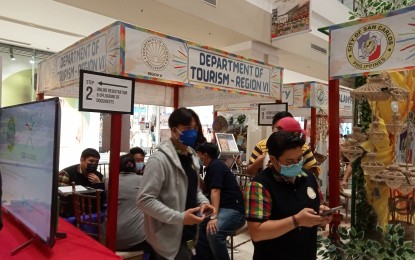 BACOLOD CITY – The Department of Tourism-Western Visayas (DOT) urged tourism enterprises in Negros Occidental and in this capital city to seek accreditation to be officially recognized for their compliance with the minimum standards for operation.
On Wednesday, the DOT-6 Tourism Regulation Division continued to receive applications through its "Accreditation on Wheels" program as part of the ongoing Lakbayanihan Tourism Fair 2022 held until May 29 at the Ayala Malls Capitol Central here.
DOT-6 Regional Director Cristine Mansinares said through the initiative, they aim to assist tourism enterprises in complying with travel safety standards.
"Let us continue to promote a safe, fun and sustainable tourism," she added.
So far, some 270 tourism enterprises in Negros Occidental and Bacolod City are already accredited, the second-highest number in Western Visayas.
To apply for accreditation, a tourism establishment must submit a mayor's permit and a certification from the Department of Trade and Industry or the Securities and Exchange Commission.
Those that can apply are primary tourism enterprises such as accommodations, including hotels, resorts, apartment hotels, tourist inns, pension houses, and homestays.
Others include travel and tour services like tour operators, travel agencies, tourist air, land, and water transport providers as well as meetings, incentives, conventions, and exhibitions (MICE) organizers and venues.
Under ecotourism, an ecoguide, ecotour facility, and ecotour operator can also apply.
Those considered secondary tourism enterprises can also seek accreditation, including health and wellness service providers such as ambulatory clinics, spas and medical concierges.
Also qualified to apply are galleries, restaurants, rest areas, and tourism entertainment complex.
Tourism front-liners such as tour guides and tourism trainers can also seek accreditation. (PNA)