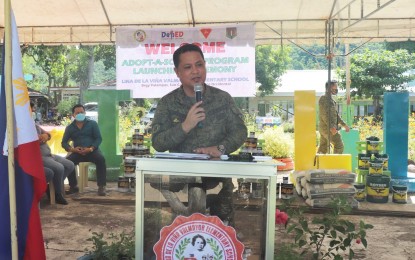 BACOLOD CITY – The Philippine Army's 79th Infantry Battalion (IB) has officially adopted the Lina De La Viña Valmayor Elementary School in San Carlos City, Negros Occidental to receive assistance from the troops in making the campus more conducive for learning.
Located in the province's first district, it is the third beneficiary under the unit's "Adopt-A-School" program after Pacol Elementary School in Sagay City in the second district and Sto. Rosario Elementary School in Silay City in the third district.
Lt. Col. J-jay Javines, commanding officer of 79IB, said in a statement on Wednesday the Philippine Army is a regular partner of stakeholders in the peace and development efforts in their area of assignment in northern Negros.
"Inspired by the outpouring of support from our stakeholders, the Masaligan troopers will remain steadfast and committed to serve the Negrenses," he added.
To formalize the partnership, the 79IB and the Department of Education forged a memorandum of agreement on Monday, wherein both parties committed themselves to embark on a journey to provide quality and relevant education to the learners as provided for in Republic Act 8525 or the Adopt-A-School Act of 1998.
The 79IB, in partnership with the city government, then turned over construction materials to officials of Lina De La Viña Valmayor Elementary School.
These will be used for the repair and repainting of dilapidated facilities and the construction of tables and chairs. (PNA)