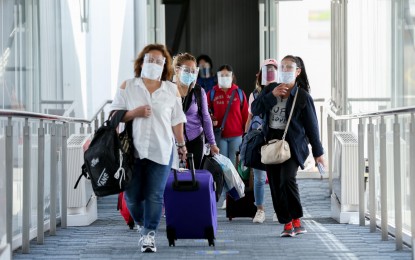 NEW YORK – The Philippines has promoted value-driven and evidence-based policymaking, as well as enhanced international partnerships, to manage international migration.

During the International Migration Review Forum (IMRF) on May 18 at the United Nations Headquarters here, the Philippines shared how it improved its policies and frameworks for the processing of data on Filipino migrants.

"To standardize, improve, and harmonize migration data, the government enhanced the operational framework for the processing of data on overseas Filipinos. In 2018, the country conducted its first national migration survey to gather baseline information on the mobility of Filipinos, both internal and international," National Economic and Development Authority (NEDA) Assistant Secretary for Policy and Planning Carlos Bernardo Abad Santos said during his intervention at the fourth Roundtable discussion in the IMRF.

Following the Philippines' adoption of the Global Compact for Safe, Orderly, and Regular Migration (GCM) in 2018, the government improved its frameworks to better respond to the needs of Filipino migrants.

"The GCM facilitated the formulation of policies to address the needs of Filipino migrant workers. Among others, our Updated medium-term Philippine Development Plan now includes a separate chapter on Overseas Filipinos, that spells out the strategic policy framework aligned with the GCM," Abad Santos said.

The NEDA official added that the Philippines' lnter-agency Committee on Migration Statistics is currently undertaking activities to harmonize and address data gaps on migration.

The number of undocumented Filipino migrants declined to 8.49 percent in 2021, from 11.06 percent in 2020, indicating that more overseas Filipinos are being mainstreamed through legal channels so that vulnerabilities and risks abroad are lessened.

Abad Santos said the government activated communication lines to facilitate swift assistance to overseas Filipinos, such as the OFW Help Facebook page, a 24/7 command/operations center, and an emergency hotline.

"In 2021, a law creating the Department of Migrant Workers was passed. We now have a specific department to protect the rights and advance the interests of our Filipino migrants," he added.

He also said that the government also strengthened international cooperation on migration, following its engagements in the Colombo process, Abu Dhabi dialogue, Bali process, and the Asean Forum on Migrant Labor, among others.

He also told the delegates and stakeholders during the international forum that the Philippines is committed to reaching the objectives of the GCM.

"We remain steadfast in pursuing its commitments to the GCM to continually improve migration governance at the local, national, and global levels. We commit to protect, promote and respect the rights of every migrant, regardless of status," Abad Santos said.

The GCM is a comprehensive inter-governmentally negotiated agreement to improve the governance of migration.
The IMRF is the primary intergovernmental global platform to discuss and share progress on the implementation of all aspects of the GCM with the participation of all relevant stakeholders. (PR)