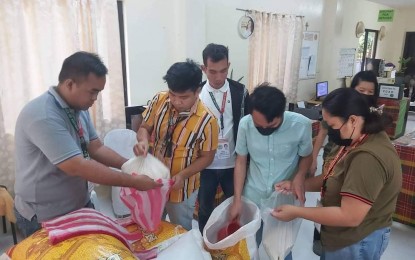 SAN JOSE DE BUENAVISTA, Antique – A total of 328 persons with disabilities (PWDs) affected by Typhoon Odette are recipients of either food packs or assistive devices from the Las Piñas PWD Federation, Inc. of Las Piñas City that will be distributed at the Provincial Disability Affairs Office this Friday.
"The assistance is in the amount of PHP250,000 which was used to buy grocery items for the food packs and assistive devices," said Edison Sta. Romana, assistant head of the Provincial Disability Affairs Office (PDAO) under the Provincial Social Welfare and Development Office (PSWDO) in an interview on Thursday.
He said 300 food packs will be distributed to eight identified municipalities of Anini-y, Tobias Fornier, San Remigio, San Jose de Buenavista, Belison, Patnongon, Laua-an, and Barbaza.
The food packs worth PHP536 each are composed of rice, sugar, canned goods, and Energen that will be received by the municipal focal persons or the PWD municipal associations, which in turn will take charge of the distribution to their beneficiaries.
"There will also be 15 wheelchairs and other assistive devices that will be given to the PWDs who are really needy," he said.
The other devices are quad cane, single cane, crutches, and walkers.
Those who received wheelchairs or assistive devices could no longer receive food packs.
"The assistance is really a big help for our PWDs in the province," Sta. Romana said.
During the onslaught of the typhoon, he said some of the PWDs were forced to pre-emptively evacuate from their homes because of the flood and damaged houses.
He added that the assistance was facilitated by Dr. June Ann R. De Vera, who is from Valderrama, Antique, and works in Las Piñas City. (PNA)