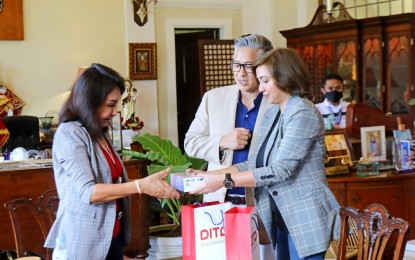 CEBU CITY – DITO Telecommunity Corp., the country's third telco player, has brought up the possibility of bringing its services to Camotes islands in Cebu province, Governor Gwendolyn Garcia said on Thursday.
Telco officials, led by lawyer Adel Tamano, met with Garcia on Wednesday afternoon to discuss the possibility of providing internet connectivity to the islanders in Camotes.
Camotes, which is composed of the towns of Poro, Tudela, San Francisco, and Pilar, has an estimated population of over 100,000, according to a 2015 census.
It is also one of Cebu's major tourist destinations because it boasts world-class sites such as white sand beaches, waterfalls, and caves, among others.
However, telco signals there have always been erratic, Garcia said.
"You know, that's going to be a statement talaga (really). Because you're not only talking of the native population there. We're also talking of the tourists that go there, and that is their primary complaint, walang (there's no) signal," she said.
Garcia said if DITO's plan materializes, it will solve the interconnectivity challenges in the area.
"If malagyan ninyo yan dyan (if you can set up), ahead of these two telcos... Wow, that's going to be a major statement of your presence in the market, because it's the tourists, by word of mouth, that will be promoting you because you'll finally solve a long, festering problem," she added.
During the meeting, Tamano was grateful to Garcia for her initial support of their endeavor of expanding their share of the market which has long been dominated by two giant companies – Globe and Smart.
He promised to expedite their feasibility study so that consumers in Camotes would have other options for their telco needs.
He also told the governor their service promos and rates, which are considerably cheaper than the other players. (PNA)