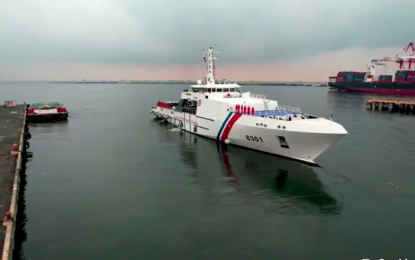 MANILA – If given an opportunity or chance, Philippine Coast Guard Commandant, Admiral Artemio Abu, is keen to have 15 more 97-meter long multi-role response vessels (MRRVs) like the newly-commissioned BRP Teresa Magbanua (MRRV-9701) to fully cover the country's maritime territories.
He made this comment when asked by the Philippine News Agency Thursday on how many 97-meter long MRRVs would be ideal for the PCG.
"Kung kaya bigyan kada district ng mas malaking barko, We have 15 regional offices of the Coast Guard for a start, one malaking barko, ideal na yan. Full coverage na yan ng ating archipelagic nation (If each district will be given a similarly-sized ship, the Coast Guard has 15 regional offices for a start, we will have full coverage of our archipelagic nation)," Abu said.
"The more the better," the PCG chief added.
Last May 6, the PCG has formally commissioned its first MRRV, the BRP Teresa Magbanua. It is now headed for Makassar, Indonesia along with three other Coast Guard vessels to participate in the Regional Maritime Pollution Exercise (MARPOLEX) which will take place this coming May 22 to 29.
The second MRRV, the sister ship of BRP Teresa Magbanua, the prospective BRP Melchora Aquino is expected to arrive by the first week of June, Abu said.
He added that these ships, once fully operational, and deployed at the West Philippine Sea, are expected to increase endurance and patrol capabilities of the PCG which was only equipped with small vessels.
"Siyempre, paglaki ng barko natin pagtaas ng kakayahan [din] (once we get bigger ships, our capabilities [like endurance, duration and weather condition] will also improve)," the PCG chief said.
The Teresa Magbanua-class of MRRVs has a length of 97 meters, a maximum speed of not less than 24 knots, and a complement of 67 officers and crew members.
The ship is also equipped with two 6600 kW diesel engines. These MRRVs were constructed by Mitsubishi Shipbuilding Co., Ltd based on the Kunigami class design, in Shimonoseki.
The PCG is primarily tasked with enforcing all applicable laws within Philippine waters, conduct maritime security operations, safeguarding life and property at sea, and protect the maritime environment and resources. (PNA)