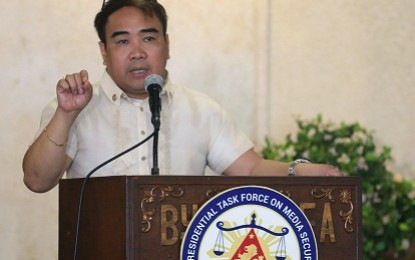 MANILA – It is a welcome development to exclude media practitioners from getting threat assessment for firearms licenses, Presidential Task Force on Media Security (PTFoMS) Executive Director, Undersecretary Joel Sy Egco, said Thursday.
In a radio interview, Egco cited it takes time and a lot of effort to undergo a threat assessment to get a gun permit.
He noted that the assessment is already unnecessary since the jobs of media practitioners are already dangerous, especially for those who were exposing corruption and reporting abuse of power.
"When you fulfill your duty or when you advocate a campaign or when you crusade for something—automatically the media will hit someone," Egco said over Radyo Pilipinas.
Egco also welcomed the Republic Act (RA) No. 11766, signed by Duterte on May 6, extending the validity of the license to possess firearms and ammunition, from two years to five or 10 years.
He finds the extension of "permit to carry" as a huge relief to the gun owners.
Egco, who has always been an advocate of responsible gun ownership and sports shooting, was the founding president of the Association of responsible armed media in 2005.
"It's really a welcome development—after the President signed the National Press Freedom Day in August," he said.
Egco thanked Duterte for signing the two laws that recognize the importance of media practitioners in the Philippine democracy.
Meanwhile, Egco cited that no single threat against media practitioners has been recorded during the recent May 9 national and local elections.
"There's a zero-incident involving the media during the elections. It's very peaceful on our part, based on our recorded data," he said. (PNA)