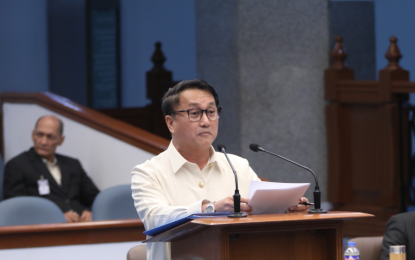 MANILA – Senator Francis Tolentino said the Tampakan copper-gold project being pushed to resume by Sagittarius Mines Inc. (SMI) in Tampakan, South Cotabato will be beneficial to local residents.
Tolentino said on Thursday the Tampakan copper-gold project will be "cost-effective" and safe.
"Cost effective yung extraction ng open-pit mining kasi mababaw lang ang paghuhukay niyan eh, makukuha agad yung mina (The open-pit mining extraction is cost effective because the excavation will be shallow and the mine will be easily extracted)," he said in "Sa Ganang Mamamayan" program of Net25.
Tolentino, however, said the Department of Environment and Natural Resources (DENR) should see to it that the rehabilitation plan will be properly implemented.
"Ang nakikita ko lang dito, ganon din siguro sa mga outlying communities, sundin yung rehabilitation plan kung meron man yung DENR. I-monitor naman ng DENR, huwag pabayaan ng DENR. Dapat nakatutok lagi sila. (What I can see here, just like maybe the outlying communities, follow the rehabilitation plan if DENR has. DENR should monitor, DENR must not ignore. They should always focus)," he said.
After the Tampakan copper-gold project halted four years ago, President Rodrigo Roa Duterte signed in April 2021 the lifting of the moratorium on open-pit mining.
The South Cotabato Provincial Board also lifted its ban on open-pit mining giving the SMI a go-signal to proceed with its stalled USD5.9-billion project.
DENR Acting Secretary Jim Sampulna vowed they will ensure that SMI will comply with its rehabilitation obligations and environmental protection, assuring that the environment will not be sacrificed.
"We will also require SMI to invest in equipment and manpower to ensure mitigation in case of any adverse impacts from the mining operation," Sampulna said.
According to SMI, the Tampakan project is noted as one of the largest untapped copper and gold minefields in Southeast Asia.
The mining company expects the project to yield an average of 375,000 tons of copper and 360,000 ounces of gold per year. (PNA)