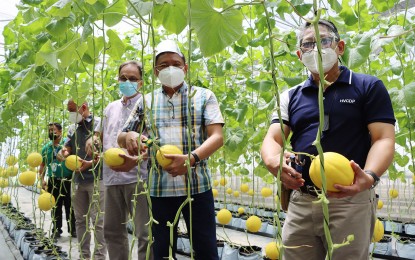 MANILA – A lawmaker on Thursday said the Philippines should boost its own food production capacity in light of the "looming food crisis" to affect the country in the second half of the year.
In a statement, Dinagat Islands Rep. Alan Ecleo said his fellow legislators and the incoming Marcos Administration should pursue programs which will provide farmers, fisherfolk, and agricultural cooperatives with the needed infrastructure, capital, training, and support services not just as source of income and livelihood, but to compete with their counterparts in Southeast Asia and the global market.
"Our competitiveness should be measured in how well the whole value chain of food production in our country sustains our local needs first," Ecleo said. "We have vast natural resources and indigenous experiences to improve food production at the national level."
Ecleo said the coronavirus disease (Covid-19) pandemic has seen the impact of global crises on the flow of goods from one country to another, as well as the need for food to be readily accessible and efficiently distributed within a nation's borders.
He said local production is crucial to sustain local needs, adding that the country should not always "rely on imports or gear production towards exports."
"Filipino food should be primarily supplied by Filipino producers to Filipino consumers," he said. "This is another reminder that there is no substitute for developing our own food production capacity."
He welcomed the enactment of Republic Act 11746, establishing a Multispecies Marine Hatchery in Basilisa, Dinagat Islands.
He said the law does not only provide for the infrastructure but also training for fish farmers to, after two years, take over the management and operation of the hatchery from the Bureau of Fisheries and Aquatic Resources.
"By opening up investments and subsidies to strengthen local agriculture, especially in mostly-rural Provinces like Dinagat Islands, we are not only alleviating poverty in the area, we are also increasing our capacity to avert food crises such as that being referred to by Sec. Dar," Ecleo said.
Agriculture Secretary William Dar warned of a looming global food crisis to hit the country in the second semester of the year, which will be driven by the adverse effects of the coronavirus pandemic, the Russia-Ukraine conflict, and the oil price surges.
"We are monitoring this because a lot of experts are already saying that there is a looming food crisis. That is the reason why all Filipinos should be prepared," Dar said. "On our (Philippines) part, we are ready because we already have a directional plan to handle this challenge." (PNA)