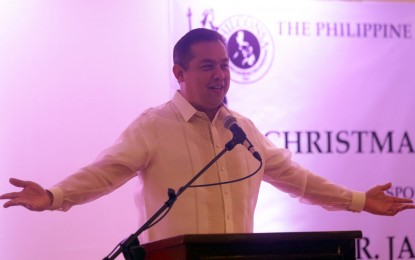 MANILA – House Majority Leader Martin Romualdez on Thursday said the next Congress will prioritize the passage of presumptive president Ferdinand "Bongbong" Marcos Jr.'s legislative agenda, including a stimulus package to help the country recover from the effects of the coronavirus pandemic.
Romualdez, who is the top contender for the speakership post in the 19th Congress, said they are eyeing the passage of a Bayanihan-type of legislation to be called Bayan Bangon Muli (BBM), as well as a bill resetting the scheduled December barangay elections to save PHP8 billion that can be used to fight the pandemic.
"It was [presumptive] President Marcos' initials, BBM or Bayan Bangon Muli bill stimulus package that will allow the incoming President to harness the resources available during the closing period of 2022 and [pass] measures that are needed for the pandemic, hopefully, endemic stage of this COVID," Romualdez said in an ambush interview.
"We are trying to ensure that the priority legislation of the incoming President, President-elect BBM will be aided and supported with measures that will allow him to pursue his agenda for the people," he added.
He said the current 18th Congress still has a pending task to fulfill, which is to canvass and proclaim the winning president and vice president.
House Secretary General Mark Llandro Mendoza said the canvassing will begin on May 24 at 2 p.m., while from May 25 to 27, it will be scheduled from 10 a.m. to 10 p.m.
On Thursday, the ruling party Partido Demokratiko Pilipino–Lakas ng Bayan (PDP-Laban) led by Energy Secretary Alfonso Cusi made their affirmation of support for Romualdez during a lunch meeting at EDSA Shangri-La Hotel.
The affirmation is a follow-up to the statement made last Saturday by PDP-Laban that their party was supporting Romualdez for the speakership.
"I would like to express my most sincere gratitude to my colleagues. Your gesture today (Thursday) will strengthen our efforts to unify the House and the people we all represent behind the incoming administration of presumptive President Bongbong Marcos," Romualdez said.
On Tuesday, Romualdez met with Speaker Lord Allan Velasco, who was reelected representative of the lone district of Marinduque, and with former President and returning Pampanga Rep. Gloria Macapagal Arroyo Wednesday. Velasco and Arroyo declared their support for Romualdez.
His endorsers now comprise an overwhelming majority in the incoming House of Representatives.
In announcing his party's support for Romualdez, Cusi said "our 62 newly elected PDP-Laban representatives are throwing their full support behind Romualdez because we believe in his capacity to unite and lead Congress for the passage of significant laws and initiatives for the benefit of the Filipino people." (PNA)