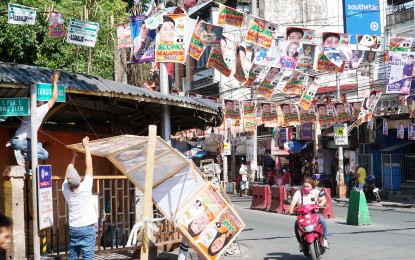 MANILA – Department of the Interior and Local Government (DILG) Secretary Eduardo Año is set to meet with incoming DILG chief Benjamin "Benhur" Abalos Jr. next month for the smooth turnover of responsibilities, especially with the full devolution to local government units (LGUs) which started this year.
Executive Order (EO) No. 138 signed by President Rodrigo Duterte last year mandates the full devolution of basic services and facilities from the national government to LGUs, including the increased share of LGUs in all national taxes and revenues.
A Committee on Devolution oversees and monitors the administrative and fiscal decentralization goals of the EO; resolves issues and concerns that may arise in the implementation of the EO; ensures the elimination of any regulatory or fiscal controls on the automatic release of LGU shares; and adopts mechanisms to ensure the continuous delivery of public services by the national government agencies and LGUs, among others.
"Hindi pa kami nag-uusap ng personal (Abalos). Nagtetext kami at through other people din naipaparating yung mga mensahe. So inaayos kasi namin, pagpasok nitong June magkakaroon na kami ng formal meetings and greetings for the new DILG secretary (We have not talked personally. We only communicate through text messaging and other people. So, we are preparing for this coming June where we will have formal meetings and gatherings for the new DILG secretary),'' Año told reporters in a phone interview Friday.
Año said they are confident that Abalos, former Metro Manila Development Authority chairman, will be able to provide good direction and leadership to both the interior and local government sectors.
"We have worked closely with Chairperson Abalos during the height of the pandemic and we have seen how he ably steered the Covid-19 (coronavirus disease 2019) pandemic response in the National Capital Region which has resulted in the downward trend of coronavirus cases and the successful rollout of the vaccination program," he said in a separate statement.
Año said they are hopeful that Abalos will continue and build on the campaign against criminality, illegal drugs, corruption, and communist terrorism that DILG has been focusing on in the past six years.
Meanwhile, Año said the appointment of the Philippine National Police (PNP) officer-in-charge (OIC) Lt. Gen. Vicente Danao Jr. to the permanent position will depend on presumptive President Ferdinand "Bongbong'' Marcos Jr.
Año said it is still up to the incoming President whether to appoint Danao to a permanent capacity even saying that "I believe that Danao is qualified'' to be the PNP chief.
Citing Article 7, Section 15 of the Constitution, Año earlier said the President can only order temporary appointments 60 days before the national elections with the recent polls falling on May 9.
He noted that it is a welcome development if Danao is appointed to the permanent PNP post but emphasized he does not want to 'usurp the discretion and authority of the next President.''
"I'm sure meron din silang mga pinag-iisipang mga candidates. Nasa kanya (next President) naman kung gusto nyang magkaroon ng fresh mandate, yung permanent chief na i-aapoint nya or pupwede nyang i-appoint na rin si OIC Gen. Vic Danao para ituloy tuloy nya bilang permanent chief PNP (I'm sure they have other candidates in mind. It is up to him if he wants to have a fresh mandate, a permanent chief that he will appoint or he can also appoint OIC Gen. Vic Danao to be permanent chief PNP),'' he said.
Regarding the removal of the May election campaign materials, Año said some LGUs that failed to meet the May 14 deadline requested that they be given more time due to their lack of resources.
"So hindi naman tayo hard (to the LGUs). Ang nakita naman natin nagbabaklas naman talaga (ng campaign materials). Merong mga lugar talaga na sobra sobra (number of campaign materials), e hindi mo na rin ma-identify yung particular na grupo na pupwedeng (call attention). So binibigyan naman natin (LGUs) ng consideration (We are not too hard on them. What we observed is that they are really removing the campaign materials. Some places have many campaign materials and we cannot identify the particular groups that we should summon. So we just gave them some consideration),'' he noted.
However, Año disclosed that deadlines are still set for the removal of the campaign materials but said there should be more compassion saying "pangit naman na natalo (losing candidates) na nga pagkatapos kakasuhan mo pa (it is inappropriate to immediately file cases against the losing candidates)."
The DILG chief said, however, the Omnibus Election Code regulations will be applied against stubborn groups who deliberately refuse to remove their campaign materials.
"Siguro by next week malalaman na natin kung meron talaga tayong dapat kasuhan dyan (refusing to remove campaign materials). Lahat ng mga regional directors, city directors, provincial directors ng DILG ay inatasan na natin na mag-ikot, ikutan nila lahat yung mga LGUs, malalaman natin (Maybe by next week, we will know if cases should be filed against those who failed to remove the campaign materials. We already directed all regional directors, city directors, provincial directors of the DILG to make the rounds, go to all the LGUs. We will see what will happen),'' he noted.
With 80 percent of the campaign materials already taken down, Año said by May 27, all election-related ads in the LGUs should be removed. (PNA)