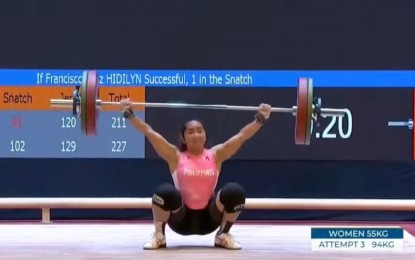 MANILA – The Philippines struck two gold medals minutes apart on Friday in the 31st Southeast Asian Games (SEA Games) in Vietnam.
Blacklist International ruled the Mobile Legends: Bang Bang tournament at Vietnam National Convention Center, taking down Indonesia, 3-1, in the best-of-five finals.
A half-hour later, it was Tokyo Olympics gold medalist Hidilyn Diaz's turn after dominating the women's 55-kilogram (kg) weightlifting event at Hanoi Sports Training and Competition Centre.
As of posting time, the Philippines already has 42 gold, 57 silver, and 80 bronze medals, but still mired in fifth spot behind the host (158-94-89), Thailand (63-71-102), Singapore (46-44-61), and Indonesia (45-64-59).
Blacklist secured the series opener after a marathon game that lasted 29 minutes, but the Indonesian squad manhandled the Philippine side in Game 2.
The series-turning point came in Game 3 when Blacklist pulled off a huge comeback after Indonesia secured the Lord kill as the Filipino team neutralized Calvin Winata, leading to Indonesia's endgame collapse.
Blacklist secured a wipe-out and completely cleaned up the middle lane to force Indonesia to call GG (good game) at the 11th minute.
It was a near-flawless performance by Blacklist as the club, led by veterans Salic Imam, Johnmar Villaluna, and Danerie James Del Rosario and new signings Dominic Soto and Lee Gonzales, went 5-0 in the season series and 11-2 in games played.
Singapore secured bronze by beating Malaysia, 2-1.
Despite being the heavy favorite, Diaz had to ward off the challenge of fellow Olympic champ Sanikun Tanasan of Thailand.
Tanasan, who won in the 2016 Rio de Janeiro Games, took an early lead in the snatch and set a new SEA Games record by lifting 93 kg as against Diaz's 92.
The deciding factor came in the clean-and-jerk when Diaz easily lifted 114 kg.
"We studied our opponent, we know she's strong in the snatch, but not so much in the clean and jerk. But of course, we cannot downplay the competition. I always do my best," the 30-year-old Diaz said in a news release, adding that it was a struggle training for the SEA Games after her busy schedule as a result of her Tokyo Olympic triumph.
Diaz ended up with 206 total kilograms against Tanasan's 203.
"My journey toward Paris (Olympics) starts here, so this SEA Games gold is very important for me," Diaz said. "Napaka-meaningful nito (This is very meaningful). After winning the gold medal [in Tokyo), bumalik pa din ako, nakapag-deliver ng gold medal for the Philippines. Masaya ako na nandito ako ulit ako sa SEA Games, na i-represent ang Pilipinas (I returned here and delivered a gold for the Philippines. I am happy to be back in the SEA Games and to represent the Philippines)."
Natasya Beteyob of Indonesia settled for bronze with a 188 total.
Diaz plans to take part in the World Championships and the China Asian Games next year in preparation for the 2024 Paris Games.
Also seeing action in weightlifting on Saturday are Denmark Tarro (men's 73 kg), Elreen Ann Ando (women's 64 kg), and Vanessa Sarno (women's 71 kg).
On Sunday, it will be the turn of John Kevin Padullo (men's 89 kg), Kristel Macrohon (women's 71 kg), and John Dexter Tabique (men's 89 kg). (PNA)