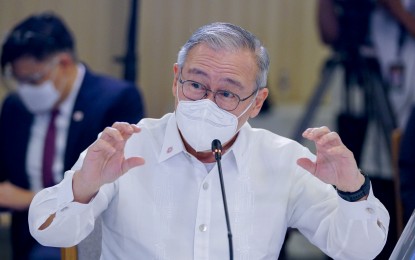 MANILA – Decency is the only way to treat human beings.
This was the key message of Foreign Affairs Secretary Teodoro Locsin Jr. as he urged countries to implement the Global Compact for Safe, Orderly and Regular Migration (GCM).
In his remarks at the International Migration Review Forum (IMRF) General Debate in New York, Locsin said the pandemic alone showed the compelling need to do so. He noted that many migrants make up many countries' health facilities yet they were among the last to get access to Covid-19 cures and care.
"[A]s GCM says, migration is a shared responsibility of the global community. So, work with us and with our partners — IOM (International Organization for Migration), UN Migration Network, civil society," he said.
He urged countries to "fight on for GCM and what it stands for: decency as the only way to treat human beings; foremost the stranger in our midst."
"It was argued in UN debates: the GCM cannot be compelling law. We replied: the compulsion to act decently is way stronger than law. It is defining of what it is to be a truly, human, being," he said.
For the Philippines, Locsin said protection of overseas Filipino workers has been and will always be a government priority.
When the coronavirus crisis hit, thousands of migrants lost jobs and shelters, prompting the Philippine government to launch a massive repatriation program that has so far sent over two million overseas Filipinos as well as foreign nationals home.
"With 10 million Filipinos out there, it was a categorical imperative. Yet we started by facilitating the swift expatriation of stranded foreign nationals that no foreign government asked us to do. This validated our hard fight for the Global Compact for Migration," he said.
He added that Manila prioritized migrants for vaccination and vaccination certificates and also established a "green lane" to enable crew change with a lesser risk of Covid-19 spreading.
Among others, the country incorporated the 23 objectives of GCM in its domestic law, the perfect example of which is the creation of the Department of Migrant Workers.
In a press briefing, Foreign Affairs Undersecretary Sarah Lou Arriola said many states, both origin and destination countries have sought to partner with Manila on labor migration.
"They want to learn from us. And many countries would like to partner with us in the labor reform that we are doing in the Middle East," she said.
"Of course, we say that our system is not perfect. But, it is just an affirmation that we have a gold standard in migrant protection," she added.
The IMRF was held four years following the adoption of GCM in 2018, which served as framework for a common approach to managing international migration.
On the sidelines of IMRF, at least two side events were organized between the Philippines, Bahrain, Qatar and Saudi Arabia to further discuss ways to improve labor migration governance in the Middle East. (PNA)