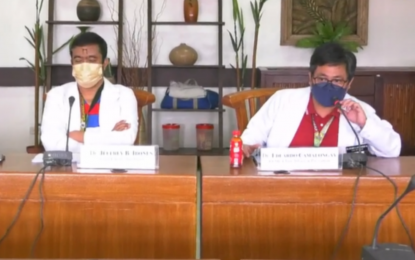 CEBU CITY – The Cebu City government is ready for the possibility of a dengue outbreak.
Dr. Jeffrey Ibones, head of the City Health Department (CHD), said in a presser on Friday they and the Cebu City Medical Center (CCMC) have enough inventory of hospital beds, medications, and supplies.
The Regional Epidemiology and Surveillance Unit reported recently that Cebu City topped Central Visayas localities with the most number of dengue patients, having 708 cases and 11 deaths, from January to May 7 of 2022.
The figure is more than nine times higher as compared to the same period of 2021 with only 80 cases and two deaths.
While the city can cope in case there is an outbreak, Ibones said the residents should bear in mind Mayor Michael Rama's advice to practice "shared responsibility" and to be vigilant against the dengue mosquitoes, and clean their surroundings.
Ibones hinted at the reactivation of the Barangay Dengue Task Force that would implement a clean-up drive to clear drainage canals of stagnant water and clogged rubbish.
Dr. Eduardo Camalongay, CCMC's infectious disease prevention department chair, said the city encourages household and school-based prevention programs to stem further increases in dengue cases.
"Cleanliness is very effective in preventing dengue outbreaks. Let us clean our schools and other infrastructures that need to be cleared of stagnant water. We also need to conduct an information drive to educate parents on ways to teach their children how to avoid dengue mosquitoes," he said.
Both Ibones and Camalongay urged parents to see the doctor in case their children contract fever lasting at least two days.
"Do not do home isolation when you get sick. Seek a doctor's advice right away. Do not wait for the dengue to aggravate before going to the hospital," Camalongay said.
Ibones said parents can also report to the nearest Barangay Health Center so that children suspected of having dengue can be assessed on time to avoid mortality. (PNA)