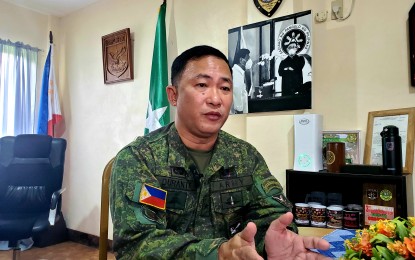 MACO, Davao de Oro – An official of the Army's 1001st Infantry Brigade (IB) confirmed Saturday that the top leader of the New People's Army (NPA) has abandoned his comrades and fled with the party's money worth PHP6 million.
Brig. Gen. Jesus Durante III, commander of 1001IB, said in an interview that Eric Jun Casilao alias "Elian" or "Wally," secretary of the Southern Mindanao Regional Committee (SMRC) reportedly left the municipality of Maragusan in this province in April.
"Based on the revelations of the surrenderers, Casilao together with alias "Oly" and another female left them. Now, they don't know what is his plan for SMRC," he added.
Durante said the surrenderers, whose number they did not reveal and when they yielded, added that Casilao only gave them PHP5,000 each and then fled.
"No, we're not losing hope, we will continue monitoring him through his common friends and maybe his acquaintances. We believe he's still in Davao Region, so it's a matter of time," Durante said.
He assured if they get confirmation of his whereabouts, their troops are ready to take action against Casilao.
"Our troops is still deployed in Maragusan and New Bataan right now to neutralize remaining members of Guerilla Front 2. But for 'Elian', we have joint efforts with Philippine National Police and other major stakeholders for his detection and apprehension," he added.
"Elian is making a business out of the armed group. He only thinks about money now," he added.
Durante said the military is trying its best to neutralize Elian at all costs before the new administration comes in.
In January, the government offered a PHP5.4 million bounty for Casilao who is tagged as the successor of slain Menandro Villanueva alias "Bok."
Villanueva, the longest-serving secretary of the NPA's SMRC and concurrent secretary of the Komisyon Mindanao (Kommid), commanding officer of the NPA's National Operations Command (NOC), and member of the POLITBURO of the Central Committee of the Communist Party of the Philippines (CPP), was killed in an encounter with military forces on January 5 in Davao de Oro.
Casilao is facing criminal charges for kidnapping, serious illegal detention, and two counts of murder.
The CPP-NPA is listed as a terrorist organization by the United States, the European Union, the United Kingdom, Australia, Canada, New Zealand, and the Philippines.
The Anti-Terrorism Council also formally designated the National Democratic Front as a terrorist organization on June 23, 2021, citing it as "an integral and inseparable part" of the CPP-NPA that was created in April 1973. (PNA)