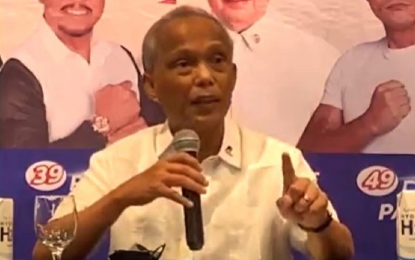 MANILA – The 65 members of the Partido Demokratiko Pilipino-Lakas ng Bayan (PDP-Laban) who have been elected to the House of Representatives have promised to support the legislative agenda of presumptive president Ferdinand "Bongbong" Marcos Jr.
PDP-Laban president and Energy Secretary Alfonso Cusi said the party members who secured Congressional seats have expressed confidence that President Rodrigo Duterte's legacy programs would be continued under the Marcos administration.
"The PDP-Laban representatives are also ready to support President-elect Marcos in the 19th Congress. Ikinagagalak nga ng ating mga Kongresista na sa hinaba-haba ng panahon, ngayon lang muli na ang mga proyekto ng kasalukuyang administrasyon ay magtutuloy-tuloy sa susunod na Pangulo (our congressmen are happy that the current administration's projects will be continued under the leadership of the next President)," Cusi said in a press statement.
Cusi said the newly-elected solons from the PDP-Laban have also reaffirmed their support for the possible House speakership bid of Marcos' cousin, House Majority Leader Martin Romualdez, in the 19th Congress to ensure the smooth and immediate passage of the next administration's priority measures.
Cusi added that members of the PDP-Laban have agreed that Romualdez is the "right leader" to become the next House speaker.
"Alam nila na magiging successful ang transition kung si Cong. Romualdez ang mangunguna sa Kongreso (They know that the transition will be successful if Cong. Romualdez will lead Congress)," he said.
The PDP-Laban earlier endorsed Romualdez as the next speaker of the House of Representatives in the 19th Congress.
Cusi expressed confidence that the PDP-Laban's 11-point Agenda for Continuity will be sustained, if Romualdez takes the helm, given the lawmaker's leadership and legislative expertise.
"Our 65 newly-elected PDP-Laban representatives have all promised to continue and surpass the achievements of the Duterte administration through legislation and budgetary appropriation," he said. "These are unprecedented and milestone programs that are needed to be continued."
The PDP-Laban's 11-point Agenda for Continuity include the fight against corruption, eradication of poverty, advancement of peace and order, goal of ending the coronavirus disease 2019 (Covid-19) pandemic, and the commitment to defeat communist terrorism in the country.
Sustaining economic growth; generation of jobs; strengthening national defense and foreign relations; educational reforms; decentralization and local government empowerment; and charter change and federalism are also part of the PDP-Laban's 11-point agenda.
Cusi said the party's newly-elected congressmen would also continue to support the Duterte government's programs, including the "Build, Build, Build" infrastructure program, the universal health care, and the whole-of-nation approach to end local communist armed conflict. (PNA)