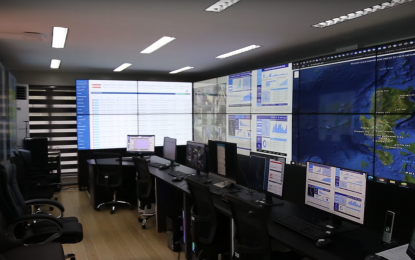 MANILA – The Department of Environment and Natural Resources (DENR) has launched an environmental data center equipped with real-time updates to sustain proper air, water, and solid waste management across the country.
The DENR's Environmental Management Bureau (EMB) has not only secured an efficient monitoring strategy through online maps but also enhanced a seamless system and transparent service both for stakeholders and the general public.
In an almost 15-minute Youtube video posted by the DENR on Thursday last week, Hiro Masuda, Assistant Secretary for Human Resources, Strategic Communication, and Sectoral Initiatives said the department is now actually on the "path of digital transformation."
"This will house the Environmental Management Bureau's statistics which will be presented visually for better appreciation and understanding of everyone, especially our clients and stakeholders," he said.
Masuda noted that with the learning brought by the pandemic, the DENR has been ramping up efforts to strengthen online systems, with a comprehensive database and monitoring compliance included on the top advancement measures.
Real-time monitoring
Unlike the usual setup where experts take samples now and then, followed by laboratory assessments, status and pollutants tracking may now be easily identified through innovative data gathering.
"This is real-time, every five minutes, it can get the data of the emissions from stock. So in this system, exceedance or the overboard against the standards of the Clean Air Act can be determined," Air Quality Management section chief Jundy del Socorro said in Filipino, in the same video.
This means compliance of industries nationwide may be efficiently monitored by the government and may be tracked even by private citizens.
"Once the air quality is collected, all of these are being collected in the repository data, and we have the Microsoft power BI. This refers to the spatial, historical, and temporal storage of our data in the 16 regions in the country," del Socorro said.
This advancement is also helpful in times of emergencies even in bodies of water, helping frontliners to respond on time.
"It no longer needs laboratory assessments to identify the quality of water. Meaning in case of an emergency, for example, an oil spill, we can immediately get the data, identify its source, and respond swiftly," EMB engineer Michiko Sibunga said.
The monitoring of sanitary landfills in the country will also be accessible to all Filipinos online.
"Our citizens will see it, with just a click, they can access it, if their locality has proper waste disposal, they have access to their sanitary landfills," Solid Waste Management Division Officer-in-charge Chief Juvinia Serafin said.
Besides the transparent data presentation, a significant number of procedures are to be done paperless, making it easier for applicants to seek permits.
Their applications will be reflected online via their website, whether permits have been granted or declined.
"All in our permitting system will be online, paperless, you can apply for a permit at the comfort of your home, and you can pay online through banks," Socorro said in mixed Filipino and English.
But as this data center promises transparency, setting accountability is also expected to go along.
"If we learn that there are sources of pollution, we will investigate, and the EMB will investigate to impose penalties to the identified source of water pollution," Sibunga said. (PNA)