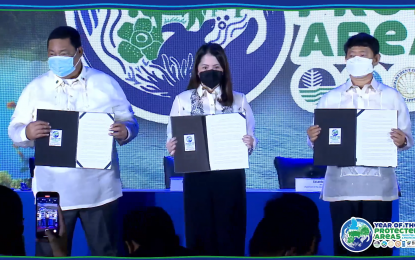 MANILA – The Department of Environment and Natural Resources (DENR) underscored on Monday the urgency to conserve and promote the country's protected areas, as these are considered ecotourism assets.
Protected area refers to "identified portions of land and water set aside by reason of their unique physical and biological significance" which should be conserved from "human exploitation", according to the DENR.
In this year's International Day for Biological Diversity Facebook livestream, the department made a joint declaration with the Department of Tourism (DOT) and the Department of the Interior and Local Government (DILG) to ensure an intensified protection of the said areas.
DENR acting Secretary Jim Sampulna noted that the economic value of ecosystem services in the Philippines is at US$46 million or around PHP2.3 billion, to which the protected areas have a significant contribution.
Sampulna added that these areas are sources of clean water, food, livelihood for indigenous groups, and an actual home for critically endangered animals, among others.
"We are happy to report that we have now 246 legislated protected areas that are receiving regular government budgets to sustain their conservation program and operations," he said.
Tourism Secretary Bernadette-Romulo Puyat, meanwhile, mentioned six out of more than a hundred protected areas they will be highlighting for the campaign.
"In support of the year of protected areas initiative being launched today, the DOT's SOS campaign highlights protected areas in the country, through the production of various multimedia content focusing on six locations, namely, Bongsanglay natural park, Balinsasayao Twin lakes natural park in Negros Oriental, Apo reef natural park, and Mt. Hamiguitan, which are both in Davao, Summer island natural park in Eastern Samar, and Mt. Timpoong Hibok-hibok natural monument in Camiguin," she said.
Although some areas may seem yet unfamiliar to other tourists, the DOT said responsible and sustainable tourism should be highly encouraged to assure these great destinations will still be enjoyed by generations to come.
DILG Secretary Eduardo Año also expressed his optimism that visitors and tourists will now be able to appreciate the value of this natural wealth.
"By calling visitors and tourists from all corners of the archipelago and the world to view and experience our protected areas, we anticipate that many will finally learn to love and value our national parks and natural wealth as important sources of livelihood and ecosystem services such as water, erosion control, and natural task management," he said.
Año said each local government unit (LGU) has an important role to prevent unlawful actions in these protected areas in their jurisdictions.
"Our LGUs (Local government units) are doubly crucial both in reviving the health of national parks and preventing illegal loggers, poachers, and developers from encroaching these ecological havens," he said. (PNA)