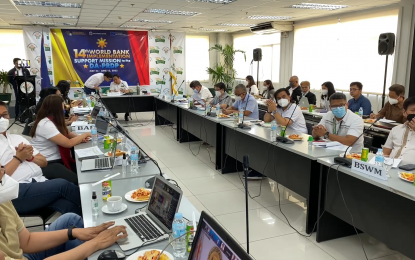 MANILA – With just more than a month prior to the official transition to the incoming administration, the Department of Agriculture (DA) lauded on Monday the milestones achieved by the Philippine Rural Development Project (PDRP).
During the hybrid opening of the 14th World Bank Implementation Support Mission to the DA-PRDP live-streamed via Facebook, the DA cited how they surpassed targets despite the challenges posed by the coronavirus disease (Covid-19) pandemic.
"We at the PRDP, continue to hit, not only hit, even break our own target, again this is something the PRDP family should be proud of," DA Undersecretary for Operations and PRDP National Project Director Ariel Cayanan said.
Cayanan said they have secured promising results for farmers and fishers, allowing them to open yet another chapter, with the help of assistance from the World Bank and the European Union (EU).
He said PDRP's accomplishments included 1,174 projects in 79 provinces, benefiting 969,800 household beneficiaries nationwide; 107 approved value-chain analysis; construction of 1,490-kilometer roads, over 1,100-meter bridges, more than 100 pre-, and post water facilities, potable water systems benefiting at least 9,300 households; and improved irrigations, among others.
"PRDP is not borne out of target and goal, they are delivered via number. There's a saying that if you could not measure, it's very hard to manage, so PRDP has been managed well, that's why figures and statistics will show," he said.
Agriculture Secretary William Dar, meanwhile, said PDRP's great performance should go beyond the incoming administration.
"I believe the second additional financing and EU co-financing grant for the Philippine rural development program is evidence of this success and a testament of shared commitment," he said.
Dar earlier said he is optimistic the next administration, under the leadership of presumptive president Ferdinand "Bongbong" Marcos Jr., will give a premium to the agricultural agenda to ensure food resiliency and sovereignty in the country. (PNA)