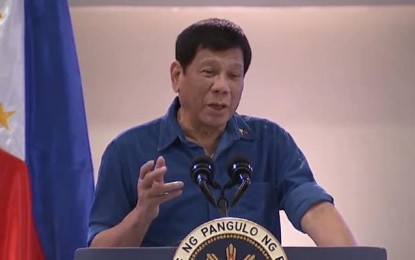 MANILA – Outgoing President Rodrigo R. Duterte on Monday apologized for his administration's "failure" to implement certain programs and projects in his six-year term but noted that the time given to him may not be enough to finish what they started.
In a speech during the inauguration of the new Metropolitan Manila Development Authority (MMDA) head office building in Pasig City, Duterte said he did everything he could for the nation and people in his six-year term.
"In a few days, I'll be out. Yung nagawa ko, para sa akin, 'yun na 'yun (What I have accomplished, for me, that's it). The best that my efforts can really achieve. Kung kulang pa 'yun, pasensya na po. Hindi ko na talaga kaya (If it's not enough, I'm sorry. I can't do it anymore)," he said.
Duterte clarified that his administration was not negligent, but pressed for time.
"The things that I failed to do, mostly not because of negligence or may mga shortcomings ako but talagang (I may have shortcomings, but it is really) time. The six years would not be enough to finish all the projects," he added.
Despite this, Duterte said he is grateful for the support Filipinos have been giving him.
"Maraming salamat po sa inyo (Thank you very much) and your help in my journey in the six years na binigyan nyo ako ng honor maging presidente ng Pilipinas (where you gave me the honor to be the president of the Philippines)," he said.
This is not the first time Duterte thanked the public for their support in a televised speech. He has been doing so since after the May 9 national and local elections.
He previously said the accomplishments of his administration are "a product of synergy and collaboration between the national and the local government, including the people."
Duterte vowed to continue helping the people when he returns to civilian life by continuing his crusade against illegal drugs.
He also said he is willing to help Filipinos who would seek his advice.
Duterte said he is astounded by Filipinos' continued support for him with just weeks before he vacates Malacañan Palace.
In PUBLiCUS Asia Inc.'s March 30 to April 6 "Pahayag First Quarter Survey", Duterte earned approval and trust scores of 67.2 percent and 61.2 percent.
PUBLiCUS said, "the longevity of President Duterte's popularity is a rarity in Philippine presidential politics". (PNA)