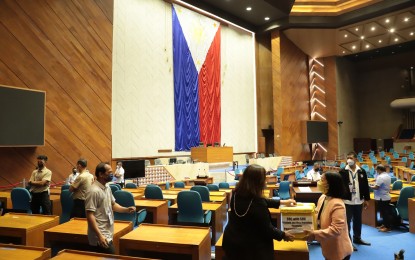 MANILA – The Senate and the House of Representatives convened as the National Board of Canvassers (NBOC) in a joint session on Tuesday to tally the votes for the 2022 presidential and vice-presidential elections.
Speaker Lord Allan Velasco and Senate President Vicente Sotto III served as presiding officers during the joint session.
"We owe our presence here today to the fact that we are the chosen representatives of our people, acting as one body, to ensure that the will of the people in choosing the two highest officials of our country is respected," Velasco said in his opening remarks.
Each chamber formally created a contingent to the Joint Committee that will do the actual count of votes cast for President and Vice President during the May 9 polls.
The House contingent is composed of Majority Leader Martin Romualdez, Cavite Rep. Crispin Remulla, Cavite Rep. Abraham Tolentino, Pampanga Rep. Juan Bondoc, Marikina Rep. Stella Quimbo, Ilocos Sur Rep. Kristine Singson-Meehan, and AAMBIS-OWA Party-list Rep. Sharon Garin.
Meanwhile, the Senate contingent is composed of Majority Leader Juan Miguel Zubiri, Senate President Pro Tempore Ralph Recto, Senate Minority Leader Franklin Drilon, Senator Nancy Binay, Senator Imee Marcos, Senator Grace Poe, and Senator Pia Cayetano.
According to the rules of the joint public session, the Senate President shall open, in the order they were received, all electronically transmitted certificates of canvass (CoCs) in the Consolidation and Canvassing System (CCS) and all manually counted and physically delivered CoCs not electronically transmitted in the CCS.
The Joint Committee shall decide all questions and issues raised involving the CoCs by a majority vote of its members, each panel voting separately.
In case the two panels disagree, the decision of the chairperson shall prevail. In case of a deadlock, the matter shall be resolved by the Speaker and the Senate President.
Once the canvassing is completed, the joint committee report shall be approved and signed by a majority of the members of the Joint Committee.
The report shall be approved and signed by a majority of the members of the Joint Committee. Each panel will vote separately.
After which, the report shall be submitted to the joint public session for consideration and approval. A majority of senators and House members, voting separately, shall approve the report and adopt the resolution of both chambers proclaiming the duly elected President and Vice President.
Under Article VII, Section 4 of the 1987 Constitution, the Senate and the House of Representatives, in joint public session, will canvass the votes for the presidential and vice-presidential elections, upon determination of the authenticity and due execution thereof in the manner provided by law. (PNA)