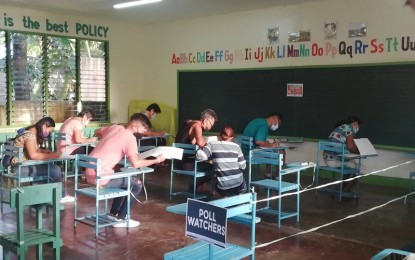 MANILA – The Philippine National Police (PNP) on Tuesday said it had placed the entire municipality of Tubaran in Lanao Del Sur under full alert status as part of its security measures for the conduct of special elections in 12 of its barangays.

Maj. Gen. Valeriano T. de Leon, PNP director for operations, said the action is aimed at preventing any armed groups or individuals from attempting to sabotage or influence the results of the special election for the more than 8,000 voters who were disenfranchised on May 9 for security reasons.

"According to our monitoring, there have been sightings of armed men in some areas, and my directive to our personnel on the ground is to ensure that these armed men are not given a single opportunity to carry out their nefarious plans," De Leon, who is currently in Tubaran town supervising the security for the special elections, said.

"We have sufficient troops here in Tubaran, which were bolstered by our counterparts from the Armed Forces of the Philippines," he added.

The armed men are believed to be supporters of mayoral candidates, and de Leon said they are monitoring these groups, especially after an explosion a few days before the special elections.

At least 600 police officers and 400 soldiers were dispatched to Tubaran, according to PNP officer-in-charge Lt. Gen. Vicente Danao Jr.

De Leon stated that all the cops and soldiers are stationed in strategic locations to prevent armed groups from entering designated voting precincts.

At least 52 police officers in these voting precincts are serving as Board of Election Inspectors.
No untoward incident

Commission on Elections (Comelec) Deputy Executive Director for Operations Teopisto Elnas said the special elections in Tuburan smoothly opened with no reported untoward incident as of 12 noon Tuesday.

"So far, everything is going well and peaceful in the three voting centers, wherein the 15 clustered precincts conducted voting," he said in a press briefing.

Elnas said the clustered precincts were able to open as early as 6 a.m. and voting centers will be open until 7 p.m.

He is that the transmission of results will also be smooth.

"Hopefully, by 10 p.m., we can complete everything, transmit the votes from the Municipality of Tubaran to the Provincial Board of Canvassers of Lanao del Sur," he said.

Elnas is also hoping the Provincial Board of Canvassers can transmit to the National Board of Canvassers Tuesday night "so we can already consolidate the results."
Tubaran has 6,921 registered voters. (with reports from Priam Nepomuceno/Ferdinand Patinio/PNA)