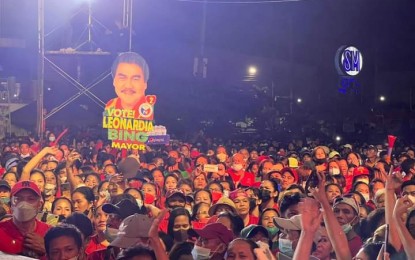 BACOLOD CITY – Mayor Evelio Leonardia has filed a protest before the Commission on Elections (Comelec) after his bid for a third and last term was foiled by former congressman Alfredo Benitez in the May 9 elections.
In a press conference at the Planta Hotel here on Tuesday, Leonardia's spokesperson Chris Sorongon said the incumbent mayor lodged his complaint before the Comelec central office in Manila on May 20.
It has been docketed as Election Protest Case No. 008-2022.
"The move of Mayor Leonardia to file a complaint was in response to the people's clamor. The people of Bacolod want to know the truth," Sorongon said in a press conference held at the Planta Hotel, where he was joined by legal counsels Marcus Vaflor and Jireh Alimon.
Benitez, a businessman and former congressman of Negros Occidental's third district representing the Asenso Bacolod party garnered 171,893 votes while Leonardia of Grupo Progreso got 107,447 votes in the mayoralty race.
Sorongon reiterated that their supporters consider the results "mysterious and unbelievable".
He said Leonardia, whose political career spans 34 years, is seeking a manual recount of the votes in all 450 clustered precincts and asked the Comelec to declare "failure of elections" and conduct special polls due to alleged massive vote-buying and the presence of fake voters.
Vaflor claimed that a supposed massive and rampant vote-buying affected the results in all of the city's 61 barangays.
Alimon, for his part, said their client deems it appropriate to file the necessary complaint to know the truth with the prayer that Comelec will conduct a manual recount and consequently declare a failure of elections to pave the way for the holding of special polls.
Sorongon noted that during the campaign period, the Grupo Progreso mounted the longest caravan, drew a mammoth crowd during their miting de avance, and had a huge turnout of daily campaigns and handshaking sorties and caucuses as well as of survey results both done internally and conducted by independent institutions.
These are on top of the achievements of the current administration and a clear platform of government, he added.
Benitez, who campaigned on a platform of change, won along with ally incumbent Lone District Representative Greg Gasataya, who clinched a third and final term.
Asenso Bacolod also won eight out of the 12 seats in the City Council. (PNA)