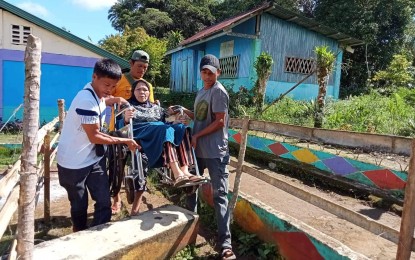 CAMP SK PENDATUN, Maguindanao—Amid heavy security, police said Tuesday's special elections in 12 villages in the Lanao del Sur town of Tubaran went smoothly without any incident.

Lt. Col. Ajid Manalumpong, Lanao del Sur police provincial spokesperson, said voters "peacefully" cast their votes as early as 6 a.m. Tuesday in 15 clustered precincts scattered in Tubaran's 12 villages.

"Everything is going on smoothly, we are only waiting for the closure of voting at 7 p.m. then we transport election materials to Marawi City," Manalumpong said in a phone interview Tuesday afternoon.

As of 4 p.m., at least 3,848 individuals have cast their votes out of 6,921 registered voters in three clustered precincts, according to the special elections monitoring team of the combined police and military task force overseeing the polls.

Manalumpong said more than 12,000 police and soldiers secured the voting in the villages of Malaganding, Metadicop, Datumanong, Tangcal 3, Guiarong, Tangcal 1, Tangcal 2, Paigoay 2, Baguiangun, Paigoay 1, Mindamudag, Wago, Pagalamatan, Riantaran, and Gadongan.

High-ranking police officials also inspected polling precincts, led by Lt. Gen. Chiquito Malayo, commander of Area Police Command-Western Mindanao, together with Maj. Gen. Valeriano de Leon, director for operations, and Brig. Gen. Arthur Cabalona, BARMM police director.

Malayo said their presence aims to "boost the morale of the troops to have a peaceful, orderly, and SAFE conduct of the special elections 2022."

The Volunteer for National Movement for Free Elections (NAMFREL) corroborated the police's security assessment, saying the election has been "generally peaceful."

A NAMFREL volunteer who asked not to be named noted that the number of military and police personnel guarding the elections has outnumbered actual voters.

Meanwhile, the military said two MG520 helicopters and Super Tucano planes performed persuasion flights above Tubaran an hour before the start of voting.

Brig. Gen. Jose Maria Cuerpo, commander of the Army's 103rd Infantry Brigade, said persuasion flights were needed to ensure no lawless group would attempt to disrupt the voting.

"We strengthen the security to preempt the evil plans of the terrorist group. We want to keep the peace so that the voters can vote without fear and coercion," Cuerpo said in an interview Tuesday.

Tubaran's special elections came about after tensions between rival political camps arose amid allegations of irregularities.

During the election day itself, supporters of reelectionist Mayor Yassin Papandayan barricaded the municipal hall to prevent the transport of election materials to protest what they viewed as the "sudden" re-clustering of polling precincts.

The Comelec declared a failure of elections after thousands were prevented from voting in certain barangays.
Success due to early planning
PNP director for operations, Maj. Gen. Valeriano De Leon, attributed the success of special elections to early planning and strategic deployment in collaboration with the Commission on Elections, the Armed Forces of the Philippines, and other government agencies such as the Bureau of Fire Protection and the Bureau of Jail Management and Penology.
"It was generally peaceful—from the casting of votes to canvassing and the transmission of election results. Talagang binantayan namin upang matiyak na hindi na mauulit ang failure of elections at upang matiyak na walang anumang anomalya ang eleksyon na isinagawa ditto (We really monitored to make sure failure of elections will not happen again and no anomalies will occur)," De Leon said in a statement on Wednesday.
De Leon arrived in Lanao del Sur one day prior to the special elections and immediately met with top military and PNP officials to discuss the special elections' preparations.
A total of 600 police officers and 400 troops, supported by Bureau of Jail Management and Penology and Bureau of Fire Protection personnel, were deployed to ensure the security of the special elections.
"Based on what we observed and experienced when the failure of elections was declared on May 9, we accounted for all potential threats, such as the presence of armed organizations and the use of flying voters, and so we really planned this carefully.We are grateful that everything went according to plan," De Leon said. (with reports of Lloyd Caliwan/Priam Nepomuceno/PNA)