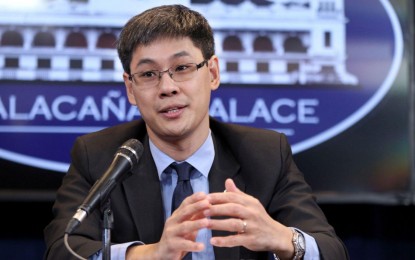 MANILA – Economic managers on Tuesday slashed the government's 2022 growth target from 7-9 percent to 7-8 percent amidst the strong output in the first quarter of the year after taking into account the impact of external developments.
In a virtual briefing after the 181st meeting of the inter-agency Development Budget and Coordination Committee (DBCC), National Economic and Development Authority (NEDA) Secretary Karl Kendrick Chua said the 8.3 percent output, as measured by gross domestic product (GDP), in the first quarter of this year is sustainable.
"The Philippine economy is on a sustainable path towards rapid and inclusive growth. We have revised the GDP target for this year from 7-9 percent to 7-8 percent taking into consideration external risks that have materialized in the last six months," he said.
These risks include the Russia-Ukraine conflict, the 75 basis points increase in the Federal Reserve's policy rates, and the slower growth of the Chinese economy, which is the second largest in the world.
Chua said these factors are expected to be countered by the strong domestic economy.
"And the more we shift to Alert Level 1, begin face-to-face schooling, accelerate vaccination, especially of children and seniors, we can fully reopen the economy. And we have, as our guide, Executive Order 166 that calls for the full reopening of the economy. So, despite these external headwinds the domestic economy is very strong," he said.
Chua noted that allowing face-to-face classes is a plus for economic activities "because of those studying account for around 40 percent of the population."
Despite the slash in the growth target for this year, economic managers retained the 6-7 percent growth target for 2023 to 2025.
Another revision in the macroeconomic assumptions for the year involves the average inflation, which was hiked to between 3.7 and 4.7 percent due mainly to upticks in the prices of oil and other commodities in the international market because of the Russia-Ukraine conflict. This range was previously between 2 and 4 percent.
As of end-April this year, the rate of price increases averaged at 3.7 percent. The inflation rate last April accelerated to 4.9 percent from the previous month's 4 percent primarily due to the impact of higher oil prices on food and services, among others.
With domestic economic activities seen to remain strong, the DBCC hiked the revenue projection for 2023 from PHP3.624 trillion to PHP3.633 trillion.
The 2024 revenue assumption was also revised up to PHP4.063 trillion from PHP4.048 trillion during the DBCC's meeting last December.
For 2025, government revenues are seen to reach PHP4.549 trillion.
Relatively, disbursements for the next two years were also increased to PHP5.086 trillion and to PHP5.392 trillion. These were previously at PHP5.059 trillion for 2023 and PHP5.347 trillion for 2024.
For 2025, disbursements are seen to amount to PHP5.723 trillion.
"Given the revised revenue and disbursement program, the DBCC maintained its target deficit at 6.1 percent of GDP for 2023, 5.1 percent of GDP for 2024, and projected the figure of 4.1 percent of GDP for 2025 as the government continues to adopt a fiscal consolidation strategy to lower the deficit back to pre-Covid-19 levels," Department of Budget and Management (DBM) officer-in-charge Tina Rose Marrie L. Canda said during the same briefing.
She added that with the projected increase in revenues next year, the proposed national budget for 2023 has been set at PHP5.268 trillion, higher than this year's PHP5.024 trillion national budget. (PNA)