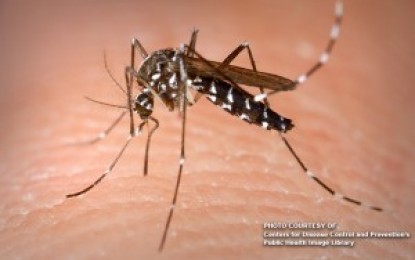 TACLOBAN CITY – Dengue fever has already claimed the lives of five people in Eastern Visayas while 1,346 patients were sent to hospitals during the first five months of the year, up by 432 percent compared to the same period last year, the Department of Health (DOH) reported on Wednesday.
DOH regional information officer Jelyn Lopez-Malibago said in a press briefing clustering of cases has been noted in 32 villages in Southern Leyte, Ormoc City, Leyte, Eastern Samar, Northern Samar, and Biliran.
"Dengue cases as of May 22 is way up than last year where we only had 154 cases. Most of the victims are male and within the age range of one to 20 years old," Malibago said.
From January 1 to May 21, 2022, deaths have been reported in the towns of Jaro, Leyte; Taft, Eastern Samar; Calbayog City, Samar; and Maasin City and Padre Burgos in Southern Leyte.
"With the cases, we would like to reiterate that Covid-19 is not the only problem in the region in terms of diseases. We must not forget to do our task in preventing dengue such as doing our '4S' strategy, especially that rainy season has already started," Malibago said.
The "4S" strategy covers the search and destroy mosquito breeding places, seeking early consultation, self-protection methods, and support fogging/spraying only in hot spot areas, where an increase in cases is registered for two consecutive weeks to prevent an impending outbreak.
Dengue fever is marked by the onset of sudden high fever, severe headache, and pain behind the eyes, muscles, and joints.
Some may develop rashes and varying degrees of bleeding in different parts of the body.
The health department asked city and town mayors to regularly organize clean-up campaigns focusing on the destruction of mosquito-breeding places in their areas and the conduct of community assembly in areas with dengue cases. (PNA)