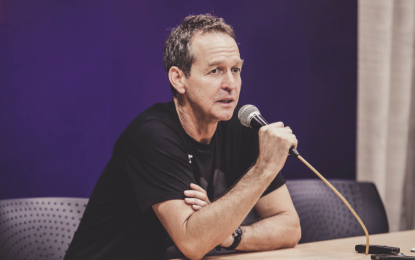 MANILA – The architect of the Philippine Azkals' breakthrough appearance in the AFC Asian Cup is back with the national team.
American coach Thomas Dooley confirmed on Wednesday that he has accepted the Philippine Football Federation's (PFF) offer to return to the Azkals.
"Yes, I'm back and can't wait to get started," Dooley said. "I am honored to coach our beloved team again."
Dooley was responsible for the Azkals' successful campaign in the AFC Asian Cup Qualifiers in 2018 in which they booked their first appearance in the said continental event in the 2019 edition.
A come-from-behind 2-1 win against Tajikistan highlighted by Phil Younghusband's go-ahead penalty, his 50th international goal, capped the Azkals' successful run.
However, after their Asian Cup run, the Azkals did not enjoy much success, and Dooley vowed to bring back the team's old glory.
"We will change the direction we have been going for the last four years," he further said. "We will take the success back to where we left off together four years ago. I know it's easier said than done. It will be difficult, but we will make it. We will fight, we will play football and we will win again."
In his return, Dooley looks to give the Azkals a similar resurgence to that which is being currently experienced by their female counterparts, the Filipinas.
The women's team, with Australian mentor Alen Stajcic at the helm, booked a place in the FIFA Women's World Cup and won a bronze medal in the recently concluded Southeast Asian (SEA) Games.
"What a year 2022 started with our Women National Team Filipinas qualifying [for the] first time for the World Cup and getting [the] bronze medal in the SEA Games. Now let's work hard to complete and top the 2022 success with the Azkals," Dooley continued.
As the PFF formally welcomes him back, President Nonong Araneta expressed confidence that Dooley will lead the Azkals back to the Asian Cup for next year.
"We would like to welcome Coach Thomas Dooley back with the Men's National Team. We trust that he can take the team to greater heights in his second stint as head coach. We wish him and the team well as they prepare for the AFC Asian Cup 2023 qualifiers next month," Araneta said.
In response, Dooley said, "Thank you PFF for the trust. You will not regret it."
The Azkals will head to Mongolia for the ACQ from June 6-14.
The full list of players called up for the Azkals will be released within the coming days. (PNA)