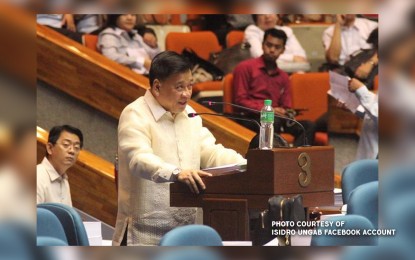 MANILA – A House leader on Wednesday said the Department of Budget and Management can help identify any unused appropriations or possible savings to support the proposed stimulus measure, dubbed "Bayan Bangon Muli", of the incoming administration of presumptive President Ferdinand "Bongbong" Marcos Jr.
Deputy Speaker Isidro Ungab said there is a slim chance of using the current budget or the 2022 budget to support the proposed stimulus, adding that it might be impossible now for the Treasurer of the Philippines to certify new sources of fund or revenue.
Ungab stressed that it would be prudent and best to wait for the economic roadmap of the incoming administration, as formulated by the National Economic and Development Authority (NEDA), through its new Secretary.
Philippine Competition Commission (PCC) chairperson Arsenio Balisacan confirmed that he has accepted the position as socioeconomic planning chief of the incoming administration.
"This roadmap may take into consideration the proposed stimulus package, so that the necessary funding will already be included in the investment-led expenditure," Ungab said.
Ungab stressed that the most important action that needs to be promptly done is the preparation and updating of the Medium-Term Philippine Development Plan for 2023 – 2028, since it will become the basis of budgeting the expenditures in the coming months and years of the BBM administration.
He said Marcos' plan to work closely with the incoming 19th Congress for the immediate passage of the 2023 national budget clearly shows his earnest support for economic recovery and sends a strong signal that the new administration is firmly determined to rebuild the country's economy.
"The newly-elected president knows that a lot of work needs to be done and the challenges are rife. So deciding to work closely with Congress is the right step towards accomplishing his goals and targets for our economy to recover. Presumptive President Marcos is right when he said that he looks forward to the new budget for 2023 to already include his priority programs and projects, among which is the proposed stimulus fund," Ungab said.
House Majority Leader Martin Romualdez earlier said the next Congress will prioritize the passage of Marcos' legislative agenda, including a stimulus package to help the country recover from the effects of the coronavirus pandemic.
"It was [presumptive] President Marcos' initials, BBM or Bayan Bangon Muli bill stimulus package that will allow the incoming President to harness the resources available during the closing period of 2022 and [pass] measures that are needed for the pandemic, hopefully, endemic stage of this COVID," Romualdez said in an ambush interview.
"We are trying to ensure that the priority legislation of the incoming President, President-elect BBM will be aided and supported with measures that will allow him to pursue his agenda for the people," he added. (PNA)