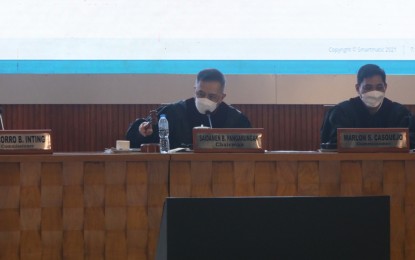 MANILA – The winning party-list organizations in the last May 9 polls are set to be proclaimed by the Commission on Elections (Comelec), sitting as the National Board of Canvassers (NBOC), at the Philippine International Convention Center (PICC) Forum Tent in Pasay City on Thursday.
"We will adjourn now and reconvene tomorrow at 4 p.m. to proclaim the winning party-lists," Comelec chairman Saidamen Pangarungan said.
He said the supervisory group will just notify the winning party-list representatives.
On the other hand, acting Comelec spokesman John Rex Laudiangco reminded the winning groups that only two representatives per party-list will be allowed to attend the event.
The poll body, however, has yet to give the definite number of winning party-list organizations due to pending petitions either against the group or nominees.
Comelec Commissioner George Garcia said they are looking to withhold the proclamation of winning party-lists with pending cases, and proclamation of winning party-list nominees facing disqualification cases.
"If there are disqualification cases filed against groups, we will not issue certificate of proclamation to the party-list themselves," he said.
The Comelec on Thursday has canvassed the last Certificate of Canvass (COC) from Lanao del Sur, after it conducted the special elections in Tubaran on Tuesday.
The said COC is the last one among the 173 COCs in the May 9 national and local elections.
Based on the latest national tally sheet for party-lists, six groups have so far met the 2 percent threshold.
They are ACT-CIS (2,109,022); 1-Rider Party-list (1,000,343); Tingog (886,431); 4Ps (836,294); Ako Bicol (816,255); and Sagip (779,542).
There are a total of 63 party-list seats to be filled up in the House of Representatives. (PNA)