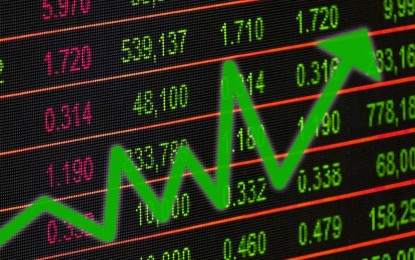 MANILA – Philippines shares recovered on Wednesday despite global economic slowdown worries and the peso sustained its sideways close against the US dollar.
The Philippine Stock Exchange index (PSEi) gained 0.31 percent, or 20.31 points, to 6,597.76 points.
All Shares rose by 0.10 percent, or 3.64 points, to 3,554.04 points.
However, most of the sectoral indices finished on the red namely Mining and Oil, 0.43 percent; Property, 0.40 percent; Services, 0.39 percent; and Industrial, 0.06 percent.
On the other hand, Holding Firms rose by 1.18 percent and Financials by 0.56 percent.
Volume reached 1.03 billion shares amounting to PHP5.99 billion.
Decliners surpassed advancers at 107 to 76 while 57 shares were unchanged.
"Philippine shares rebounded, as foreign investors stayed away from dropping tech names for bonds on fears of global economic slowdown," Luis Limlingan, Regina Capital Development Corporation (RCDC) head of sales, said.
He said yield of US' 10-year Treasury declined to as low as 2.73 percent on Tuesday after rising to the 3 percent level in the early part of this year.
Relatively, the peso finished the day at 52.355 against the greenback, little changed from its 52.32 close a day ago.
It opened the day at 52.34 and traded between 52.3 and 52.38. Average level for the day stood at 52.349.
Volume declined to USD804.2 million from the previous session's USD1.02 billion. (PNA)