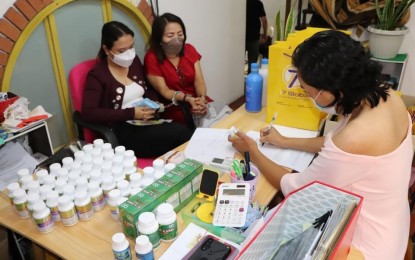 MANILA – The National Bureau of Investigation (NBI) on Wednesday said operatives of the NBI-Anti-Organized and Transnational Crime Division (NBI-AOTCD) have arrested six officers of I7 Global Corporation (I7 Global) in Quezon City for involvement in an investment scam.
NBI OIC-Director Eric Distor, who earlier made directive to apprehend investment scammers, identified the arrested I7 Global officers as Florentina I. Sapala, CEO/president; Alvin M. Soriano, VP sales for Luzon; Alexander B. Duran, VP sales for Mindanao; Christian M. Sales, VP marketing; Jane M. Vergacer, assistant finance manager; and Wilfredo Pogoso, mentor.
The operation, he said, stemmed from information that I7 Global is allegedly into selling and offering for sale investment securities to the public without license from the Securities and Exchange Commission (SEC).
The NBI deployed undercover agents to conduct initial investigation by attending the company's business presentation in Ortigas Center, Pasig City on May 14.
Contrary to the I7 Global officers' claim, the NBI discovered that the company's health products being used to entice investors are not registered with the Food and Drug Administration (FDA).
Aside from the investment packages worth PHP8,777 each, the I7 Global also offered a so-called "share subscription" investment opportunity for PHP1 million where an investor would earn 1 percent every six months of the company's gross sales.
Upon verifying that I7 Global is into unlawful activities, the undercover agents contacted Soriano informing him that the PHP3 million worth of investment was ready.
The undercover NBI operatives and the company's officers agreed to meet at 19 Cliff Drive, Blue Ridge A, Quezon City on May 20 and made the arrest after handing over the marked money.
On May 21, the arrested I7 Global officers were presented for inquest proceedings before the Prosecutor's Office of Quezon City for syndicated estafa and violation of FDA and SEC regulations. (PNA)