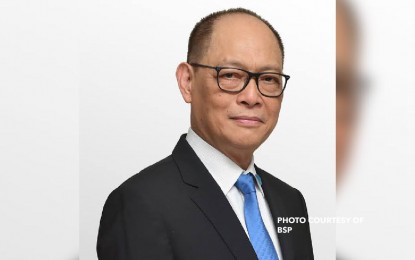 MANILA – There will be no major changes in the line-up of undersecretaries for the next administration, Bangko Sentral ng Pilipinas (BSP) Governor and incoming finance chief Benjamin Diokno said on Thursday.
"I intend to retain most of the Undersecretaries and also (National) Treasurer Lea (De Leon)," he said in a virtual briefing on Thursday.
Diokno considers the financial chief position as equally challenging as heading the central bank "because we're shooting for the same (goal) for the country, which is to make the country an upper-middle income economy soon."
"I think we're almost there but because of the pandemic that goal was disrupted. So, we'll focus on that," he said.
Economic managers earlier aimed to elevate the domestic economy to the upper-middle income status by this year given its sustained expansion.
The pandemic delayed this goal but authorities said this remains feasible since the economy has started to recover from the virus-induced crisis.
Another focus of the Department of Finance (DOF) under Diokno's watch will be to further bring down the level of poverty in the country, he said.
Philippine Statistics Authority (PSA) data show that as of the first semester of 2021, poverty incidence in the country, or the share of poor Filipinos whose per capita income is not enough to meet their basic food and non-food needs, is placed at 23.7 percent of the population or about 26.14 million Filipinos.
Meanwhile, in terms of the accelerating rate of price increases, Diokno said there should be a coordinated action between the fiscal and monetary authorities but because the current acceleration of inflation rate is caused by supply-side factors, he said this should be handled primarily by the fiscal side.
Diokno has repeatedly said that acceleration of domestic inflation rate, which surpassed the government's 2-4 percent annual target band until 2024 last April when it rose to 4.9 percent, should be addressed by focused measures such as the fuel subsidies for drivers and operators of public utility vehicles (PUVs) and farmers and fisherfolk.
He, however, said another hike in the central bank's key rates is up for the June 23 rate setting meet of the BSP's policy-making Monetary Board (MB) following the 25 basis points increase last May 19, which is the first since 2018.
BSP's key rates have been slashed off by a total of 200 basis points in 2020, which brought the overnight reverse repurchase (RRP) rate to record-low 2 percent, as part of the central bank's pandemic-related measures.
"Right now it (the RRP rate) is 2.25 percent and I have signaled that we are going to have another 25 basis points adjustment on our next monetary board meeting, which is on June 23," Diokno said.
On the proposed fiscal consolidation program made by the current DOF authorities for the next administration, Diokno said "we will certainly look" at this.
"My own sense is our system right now is much, much better than the system we inherited from the previous administration. This government has done a lot of reforms. I'm not saying it's perfect. There are some areas that we can improve upon," he said.
On the proposal to increase taxes for the government to pay its pandemic-related debt and finance its programs, Diokno considers it "too early" for him to make a position.
"I think it's important to raise the growth momentum of the economy because a strong economy means strong resources, tax resources, government resources," he added. (PNA)