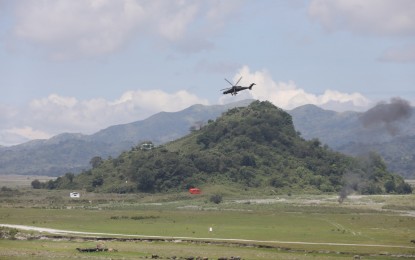 MANILA – The Philippine Air Force (PAF) announced the conclusion of the nine-day gunnery competition tasked to test the skills and accuracy of its strike, monitoring and detection assets.
The event took place at the Col. Ernesto Rabina Air Base in Capas, Tarlac between May 16 to 24, PAF spokesperson Col. Maynard Mariano said in a statement Friday.
These exercises were formally known in PAF and military circles as "SANAY-TUDLA II" and "SIMEX III".
He said the gunnery competition was highlighted by the participation of the PAF's air defense, command, control, communications, computers, information/intelligence, surveillance, targeting acquisition and reconnaissance (C4ISTAR), search-and-rescue systems and surface strike-capable assets.
These assets were divided into two teams supported by other PAF units corresponding to their core systems under the Integrated Air Operation System, Mariano said.
"During the conduct of the exercise(s) the PAF utilized its air assets such as the FA-50PH of the 5th Fighter Wing; the AW-109AH, SF-260TP, T-129, and A-29B 'Super Tucano' of 15th Strike Wing; Bell-412 helicopters from the 205th Tactical Helicopter Wing; unmanned aerial vehicles from the 300th Air Intelligence and Security Wing; the S-76(i) and (W-3A) 'Sokol' helicopters from the 505th Search-and-Rescue Group; and radars from the 580th Aircraft Control-and-Warning Wing," he added.
The activity was viewed live at the PAF Control Center, Air Force Command Center and the Armed Forces of the Philippines (AFP) Command Operations Center along with other military command-and-control facilities.
"Combat air controllers of the 710th Special Operations Wing and direct air support forward teams were also the key players in the success of the activity. Critical to the activity was the connectivity provided by the 950(th) CEIS (Communications, Electronics, and Information System) Group," he said.
He said the "SANAY-TUDLA II" and "SIMEX III" showcased the delivery of secured and near-real-time "common operational picture" through a live voice, video and data feeds from sensors to shooters and to decision-makers in all command-and-control centers of the PAF.
The event was witnessed by AFP acting chief-of-staff Air Force Lt. Gen. Erickson R. Gloria, PAF chief Lt. Gen. Connor Anthony Canlas Sr., and other ranking military officials. (PNA)