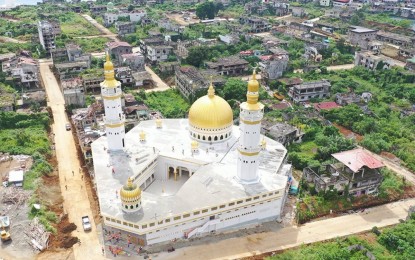 MANILA – The government-led Task Force Bangon Marawi (TFBM) will likely complete at least 89 percent of public infrastructures and other rehabilitation projects by the third quarter of this year.
The latest data from TFBM as of Friday showed that about 72 percent of the rehabilitation projects and recovery efforts have been accomplished.
Housing Secretary Eduardo del Rosario, also the TFBM chief, reported that the 56 agencies have finished 164 projects worth PHP17 billion, among them key public infrastructure facilities in Marawi City's most affected area (MAA) destroyed during the 2017 siege between government forces and terrorists.
Del Rosario said 35 other rehabilitation and recovery projects worth PH3.92 billion are ongoing, including the sports complex, convention center, and the mall-like Grand Padian market.
The TFBM is also working on the procurement of 32 projects worth PHP2.4 billion.
"Different stages of procurement because our budget that is being given by the national government is by tranches. In fact, for this year, we are given PHP1 billion and not a single project has started yet because of the local and national elections," del Rosario said in a statement.
The rehabilitation efforts in Marawi City went full blast in July 2020 amid the onslaught of the Covid-19 pandemic, following the completion of the first phase of rehabilitation from November 2017 to October 2018.
The first phase included emergency assistance such as the provision of water, food, clothing, and other basic necessities to displaced families in different evacuation centers, as well as the construction of temporary shelters for displaced families in the MAA.
The second phase includes debris management efforts and detonation of unexploded bombs within ground zero. (PNA)