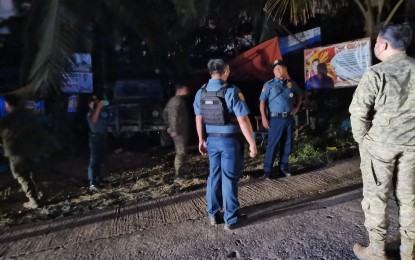 DUMAGUETE CITY – Police authorities are urging a poll bet who claimed to have been the victim instead of the suspect in a shooting incident in Basay, Negros Oriental during the May 9 elections, to file a formal complaint against the incumbent mayor and his men.
Provincial police director Col. Germano Mallari said Friday Basay mayoral candidate Cliff Cordevilla has claimed through posts on social media that he and his companions were "ambushed" allegedly by men associated with Mayor Beda Cañamaque in the remote and hinterland Barangay Cabalayongan on Election Day.
Cañamaque, on the other hand, told police investigators that Cordevilla and his group fired at them while they were at the house of a supporter in that village.
One of the mayor's supporters was injured and brought to the hospital.
Mallari said on the side of the mayor, a complaint was already filed against Cordevilla for frustrated murder.
He also urged Cordevilla to coordinate with the town police and file a complaint to counter Cañamaque's allegation.
The shooting in Basay was the only election-related violent incident (ERVI) in the province, he said.
Initially, there were two suspected ERVIs, the other one involving a robbery at the house of Sibulan incumbent Vice Mayor Marcela Grampon Bartoces, who ran for mayor.
However, after a thorough investigation and validation of the incident, Mallari said the Bartoces case did not meet the criteria of the Philippine National Police for ERVI as it did not disrupt the election proceedings.
It did not in any way affect the elections even though a politician/candidate was the victim of the crime, he said, noting that in the case of Basay, polling in the barangay was transferred to the town hall after the shooting. (PNA)