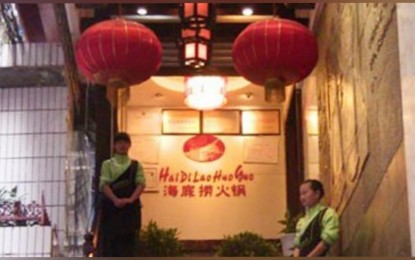 MANILA – Haidilao, the largest hot pot restaurant chain in China, will open its first store in the Philippines next month, the Department of Trade and Industry (DTI) said Friday.
The DTI said Haidilao International Holding Ltd. would continue to open more restaurants within the year, creating at least 400 jobs.
The DTI has yet to divulge further details, such as the number of stores and locations of Haidilao.
According to the agency, the expansion plans of Haidilao in the Philippines took two years.
The Philippine Trade and Investment Center in Hong Kong (PTIC-HK) and the restaurant chain owner started discussions on the latter's plan in the first half of 2020.
PTIC in Hong Kong and Guangzhou both assisted Haidilao to open its first branch in the country.
In a virtual meeting with the Board of Investments (BOI) last month, Haidilao executives discussed the details of their operations here.
"The intention of Haidilao is to present a superior dining experience and offer quality food for Filipinos at a reasonable price. In addition, Haidilao intends to fuse the Filipino taste into its menu and integrate Filipino core values in its service," the DTI said in a statement.
Haidilao was founded in 1994 in Sichuan, which is known for its extremely spicy food, particularly hot pot.
The company now has over 1,000 restaurants in China, Hong Kong, Macau, Singapore, Malaysia, Taiwan, Australia, United States, United Kingdom, Canada, Thailand, Indonesia, South Korea, and Japan among others. (PNA)