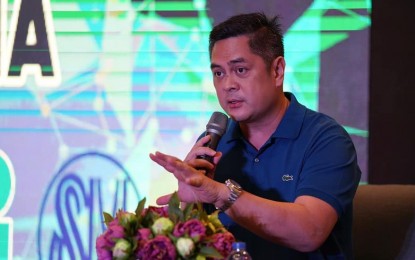 MANILA – Communications Secretary Martin Andanar ordered the transition team of his office to ensure the proper turnover of power to the incoming press secretary Rose Beatrix "Trixie" Cruz-Angeles, Malacañang said Friday.
Acting Deputy Presidential Spokesperson and Communications Undersecretary Michel Kristian Ablan said he and other members of the Presidential Communications Operations Office (PCOO) transition team are set to meet with Cruz-Angeles in the coming days to discuss the smooth transition of power.
"Insofar as PCOO is concerned, Secretary Martin has activated the transition team. I am included in that. And we have sent feelers to incoming PCOO Secretary Trixie Cruz-Angeles. And we hope to meet them soon so that there is a proper turnover between outgoing Secretary Andanar and incoming Secretary Cruz-Angeles," he said in a virtual presser.
Cruz-Angeles, who has been named as the press secretary of President-elect Ferdinand "Bongbong" Marcos Jr., is expected to "oversee the operations of the PCOO, which includes the conduct of regular press briefings to media practitioners covering Malacañang activities."
In March, Andanar expressed hope that his successor would continue the reform initiatives that he has undertaken to improve the government's communication and information services.
Andanar, Ablan said, has directed the transition team to make sure that there will be an orderly transfer of power to the next head of the PCOO.
"Secretary Andanar has instructed me to provide a proper and full turnover to the incoming Secretary not unlike what we experienced six years ago. So, we will provide them with all the information that they need and with all the assistance. I will be staying over, so I will be in charge of the transition," he said.
Ablan also guaranteed that the PCOO and its attached agencies are ready for the inauguration of Marcos on June 30.
The PCOO, on the other hand, is leaving to the Presidential Security Group (PSG) the decision on whether protocols would be relaxed to allow media coverage on Malacañan grounds.
"We have to defer po sa (the) PSG. Buhay po ng ating outgoing President at incoming President ang nakasalalay (The lives of our outgoing president and the incoming president are at stake). So, we will abide by the protocols of the Presidential Security Group," he said
On May 10, Duterte signed Administrative Order 47 directing all departments, bureaus, and instrumentalities of government to create their own internal transition committees which will support the Presidential Transition Committee in overseeing the proper turnover of projects and continuous operation of their offices during the transition period. (PNA)