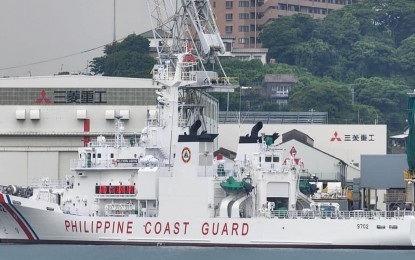 MANILA – The Philippine Coast Guard's (PCG) newest 97-meter, multi-role response vessel (MRRV) has been sent off from its manufacturer in Japan and will reach the country on June 1.
In a speech during the ship's send-off ceremony in Japan on Friday, PCG Commandant Admiral Artemio Abu said the vessel, BRP Melchora Aquino, is "another brand-new capital ship" similar to BRP Teresa Magbanua.
"This sturdy white ship will serve as the stalwart protector of our maritime reserve, and instrument for peace and tranquility within our territorial waters," Abu said.
He said the vessel will be a "symbol of hope," a "source of national pride," and will serve as an instrument in promoting the rule of law at sea and "enhancing amity among neighboring nations."
Made by Mitsubishi Shipbuilding and funded through the Japan International Cooperation Agency (JICA), he said the vessel "symbolizes the strong partnership and cooperation" between Japan and the Philippines.
In a separate speech, Transportation Undersecretary for Maritime Admiral George Ursabia Jr. (Ret.) said both BRP Melchora Aquino and BRP Teresa Magbanua were acquired under the Department of Transportation's (DOTr) Maritime Safety Capability Improvement Project Phase 2.
Ursabia thanked the Japanese government and its people for being the Philippines' "closest development allies" and for their contribution to the growth of the country.
"I am confident that our solid partnership and decade-long friendship aimed at realizing numerous development projects will further solidify our bond to be able to withstand the tides of time," Ursabia said.
The PCG's newest MRRVs were modeled after the Japan Coast Guard's Kunigami-class vessel, have a maximum speed of not less than 24 knots, and endurance of not less than 4,000 nautical miles.
The ships are capable of sustained maritime patrols in the country's maritime jurisdictions, including the West Philippine Sea and Philippine Rise.
On Sunday, the BRP Teresa Magbanua and other PCG vessels were sent to Makassar, Indonesia to represent the Philippines in the Marine Pollution Exercise 2022 from May 22 to 27.
The PCG is joined in the exercise by Indonesia's Directorate General of Sea Transportation and the JCG. (PNA)