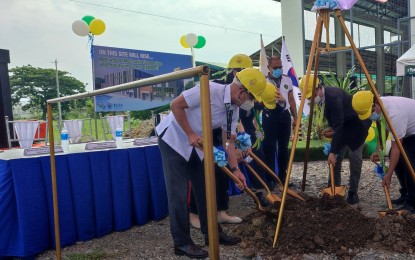 MANILA – A South Korea-funded agriculture mechanization center will soon rise in Nueva Ecija, the South Korean Embassy in Manila said Friday.
The USD5.78 million Agricultural Machinery Design and Prototyping Center (AMDPC) project will be funded through the Korea International Cooperation Agency (KOICA) and is expected to provide Filipino farmers better access to affordable and locally-manufactured agricultural machinery.
"The Republic of Korea supports the Philippines' agricultural technological innovation including research and development that can help increase agricultural productivity and generate higher incomes for Filipino farmers," the Embassy said in a statement.
"The Korean Embassy will continue to partner with its Philippine agricultural stakeholders to support agricultural growth and ensure food security for the benefit of Filipinos," it added.
The grant project broke ground last May 25 in Muñoz, Nueva Ecija, with the construction expected to start soon.
"Now we are in the process of selecting the construction agency, but the construction will be soon. It will be finished in 2026," Korean Embassy Third Secretary Lee Gahye said in an interview.
The funding will cover the establishment of the AMDPC, development of new agricultural machinery technologies and prototypes, dispatch of Korean experts, and capacity-building efforts for the Philippine Center for Postharvest Development and Mechanization (PHilMech).
The AMDPC is part of a project between the Department of Agriculture and KOICA to enhance Filipinos' capability to design, develop and manufacture agricultural machinery and accelerate the mechanization of Philippine Agriculture.
KOICA Country Director Kim Eunsub, during the groundbreaking ceremony, said Korea will continue supporting agriculture and rural development in the Philippines.
Apart from the AMDPC, Korea is also supporting a USD15 million project to establish the Agricultural Biotech Research Center at the University of the Philippines Los Baños.
The center aims to help improve agricultural competitiveness through agricultural science and technology as well as academic partnerships in genomics research.
Over the past 30 years, Korea has contributed about USD358 million (approximately PHP18 billion) to support rural community development and agricultural productivity in the country. (PNA)