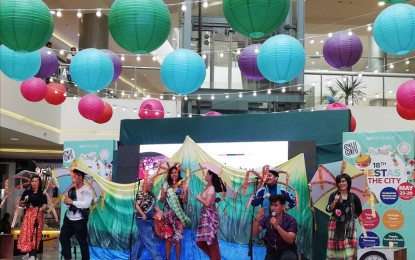 SAN JOSE DE BUENAVISTA, Antique – Tourists flocking to a mall in Iloilo City for "Fiestas in the City", which aims to promote culture and tourism in the new normal, are always drawn to the food section.
Antique Provincial Tourism and Cultural Affairs Officer Juan Carlos Perlas, in an interview on Friday during the "Antique Day", said aside from the sites, guests come back for the gastronomic experience.
"We offer them our heritage dishes," Perlas said.
Among Antique's native delicacies are "puto tapol", steamed rice cake traditionally made from rice-based fermented dough, and "ibos", steamed sticky rice blended with coconut milk.
There is also the traditional "lechon" or roasted pork usually served during fiestas and celebrations in just about anywhere in the Philippines where pork dishes are allowed.
Negros Occidental, Iloilo City, Iloilo province, Guimaras, Bacolod City, Aklan, and Capiz are also part of the weeklong fair initiated by the Department of Tourism 6 (Western Visayas) and set to end on Sunday.
Perlas said Antique, being a laid-back province, is an ideal destination post-Covid-19.
Tourists visit secluded white-sand beaches in the island municipality of Caluya and the Sibalom Natural Park where endemic animals and plants thrive.
Cultural presentations also lured guests.
Roy Molina from Maasin, Iloilo said he enjoyed listening to songs in the Visayan dialect Kinaray-a.
"I love listening to Kinaray-a songs for they make the local language so alive," he said in an interview.
He said the younger generations, who speak English or other languages, might not be able to understand some of the Kinaray-a words, but they would learn to appreciate the local language by listening to the music.
An American from Texas said he intends to go to Antique after watching the musical performance of Teatro Tubigon.
"I enjoyed the presentations and I have to visit the place," he said.
Provincial Board Member Mayella Mae Plameras-Ladislao said the province joined the event to showcase what Antique could offer both for domestic and foreign tourists.
"We want to show that we are a happy people," she said in her opening remarks during the program, adding that they want to boost the local tourism sector and all other businesses affected by the pandemic. (PNA)