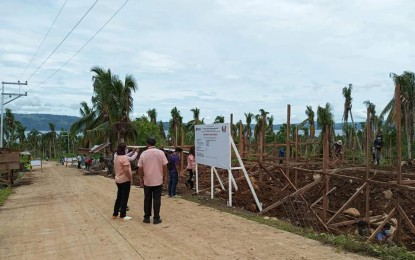 MANILA – The Department of Human Settlements and Urban Development (DHSUD) has finalized separate accords with the local governments of Marinduque and Leyte for the construction of more evacuation centers within the two provinces.
One evacuation center will each rise in Mocpog and Torrijos in Marinduque and Palo, Hilongos, and San Isidro, the Leyte towns previously battered by strong typhoons.
DHSUD Secretary Eduardo Del Rosario said on Saturday more evacuation centers will "boost the country's overall disaster preparedness, particularly in areas prone to natural disasters and other calamities" as ordered by President Rodrigo Duterte.
Del Rosario said the agreement is aligned with the Marinduque Physical Framework Plan which was finalized last year.
"Through the joint efforts of the Department and the Marinduque local government unit, establishing evacuation centers in Mocpog and Torrijos will definitely play a huge role in boosting the province's disaster preparedness," he said in a statement.
Marinduque Governor Presbitero Velasco said in a separate statement after the signing of the accord that the evacuation centers "will be pivotal in saving people's lives" in times of calamities.
"We, of course, know that Bicol is the gateway of storms and typhoons but sometimes they visit also the province of Marinduque. In the past, we bared witness to the province being directly hit by super typhoons Rolly and Quinta and likewise Ulysses, which have brought much damage to our province, and this grant for the evacuation centers [will] surely help us in saving lives," he stated.
Leyte Governor Leopoldo Dominico Petilla said the evacuation centers will be a great help to Leyteños, "especially those still reeling from the adverse impact of previous typhoons".
He thanked the DHSUD for its all-out support and help to mitigate the adverse impact of climate change. (PNA)