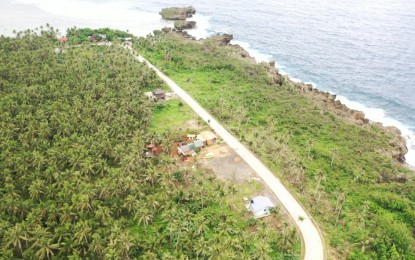 TACLOBAN CITY – More tourists have been visiting the famous Canhugas Nature Park in Hernani, Eastern Samar after the recent completion of the PHP27.35 billion road leading to the destination.
Cleopatra Bantang, operations manager of Canhugas Nature Park said in a phone interview Monday before the completion of the project, it is inconvenient for tourists to visit the site due to rocky and muddy roads especially during the rainy season.
"Prior to the concreting project, it is hard to get here. Despite the nature park's beauty, visitors are discouraged to come here since the bad road damages car tires," Bantang said.
The road leading to Canhugas has a total length of 1.898 kilometers with a standard width of a national highway.
The tourism road is a project of the Department of Public Works and Highways Eastern Samar district engineering office under the Convergence and Special Support Program implemented in two phases which started in 2019. It was completed last year.
The road project also included the provision of parking spaces near the tourist site.
"We are very grateful to the national government for providing funds since the project would not be realized using limited funds of the local government," Bantang added.
Considered one of the top tourist destinations in Eastern Samar province, the nature park is located close to the town center, just a few meters away from the national highway.
Canhugas was derived from the local term "hugas" (wash), a place where fishermen used to wash their catch.
The tourist destination had become popular with tourists for its gigantic waves that crash onto the large rock formation.
Its breathtaking scenery of big waves attacking the Bato-Bato Peak facing the Pacific Ocean makes it picture-perfect. Another attraction is the Canhugas mini falls with overflowing waters from the big ocean waves.
Visitors may also do snorkeling and swimming in small lagoons inside Canhugas. (PNA)