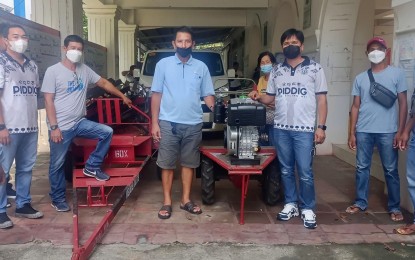 LAOAG CITY – The town of Piddig in Ilocos Norte is set to make another history as its first Wagyu crossbred calf is expected to come out in August this year.
Farm veterinarian Leon Palitayan confirmed this in his report to Piddig municipality on Monday.
Out of the 193 native cows that were artificially inseminated with Wagyu (Japanese cattle) semen since the project was launched in October last year, Palitayan said at least 84 became pregnant, with six of them carrying twins.
Known as the home of the Basi Revolt of 1786 during the Spanish wine monopoly, Piddig town is also poised to become a producer of world-class Wagyu meat through collaboration with its local government unit, the Department of Agriculture, and other public and private partners.
"The Wagyu cross and branded beef development program is a long-term solution to the effect of ASF that is threatening the hog industry right now. It aims to consolidate and develop locally-produced high-value Wagyu beef and branded beef from the existing herd," Mayor Eduardo "Eddie" Guillen said.
Based on a local survey by the municipal agriculture office, 3,000 cattle in Piddig are available for artificial insemination.
The initial batch of Wagyu semen from the Bureau of Animal Industry has so far resulted in 84 confirmed pregnant cows.
To date, artificial insemination technicians are reaching out to the farmers in 23 barangays who participated in the project to monitor their cows.
To encourage more farmers to join the program, the town recently awarded a hand tractor with accessories to the barangay with the most artificially-inseminated cattle.
"The hand tractor will be used to transport animal feeds," Guillen said.
He assured that anyone who participates in the program will be given marketing assistance with free insurance coverage by the Philippine Crop Insurance Corporation, free artificial insemination service, among others. (PNA)