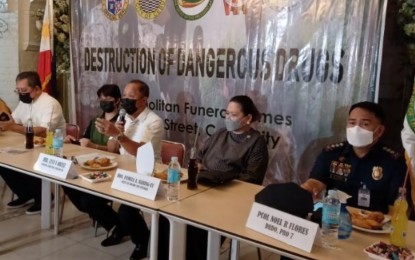 CEBU CITY – The Philippine Drug Enforcement Agency-Central Visayas (PDEA-7) on Monday burned a total of PHP99.6-million worth of drugs seized from various anti-drug operations in Cebu.
PDEA-7 regional director Levi Ortiz said they destroyed 13.3 kilos of shabu worth PHP90.7 million using a thermal facility of the Cosmopolitan Funeral Homes in the downtown area here.
Also disposed of were over 74 kilos of marijuana worth PHP8.9 million and 4.44 grams of prescription drug ephedrine worth PHP7,097.
In a press briefing after the destruction of the drugs, Ortiz thanked the stakeholders for their effort to help the government curb illegal drug trading by destroying the evidence seized in the anti-drug sting operations.
He noted some positive development in the campaign against illegal drugs, saying players yielded smaller volumes as compared to the past operations.
"Before, we seized volumes. Right now, ginagmay na lang (it's getting smaller in quantity)," he said.
Regional Trial Court Branch 21 Judge Pamela-Uy cited the efforts of the PDEA-7 in destroying the evidence confiscated in various law enforcement operations.
She said being the repository of illegal drugs confiscated and submitted to the court as evidence against the accused drug personalities, the PDEA strived hard to destroy the seized drugs despite the lack of a government-owned thermal chamber.
"So buti na lang may nag-volunteer (It's good that there are who volunteered to help) for the destruction," Uy said.
Ortiz said Cebu needs to have a thermal chamber so that they can regularly dispose of illegal drugs.
The later mayor Edgardo Labella had pledged to build a thermal chamber in the city's hinterland area, but Ortiz said he will confer with Mayor Michael Rama if he will pursue the plan of his predecessor.
Meanwhile, a police official here underscored the importance of registering SIM (subscriber identification module) cards as a tool in solving bomb scares by persons who are using mobile text messaging.
Lt. Col. Janette Rafter, Cebu City police deputy director for operations, said the persons who threatened to attack certain government and private facilities can be identified through the one who sent the text messages.
"Actually, it is really a challenge to us, especially on the aspect of regulating the SIM cards. But eventually, little by little we can solve it. Although, it's not that easy," Rafter said in a press conference at the sideline of the destruction of PHP99.6-million worth of illegal drugs.
However, Rafter assured the Cebuanos of the efforts of the Cebu City government, the Anti-Cybercrime Group, and the Cebu City Police Office in finding ways to prevent the same incident that occurred on Thursday last week.
City Hall services and court sessions were hampered by a bomb threat via text message, saying explosives were planted in the Cebu City Hall, Qimonda Building where the Hall of Justice is situated, the Cebu-Cordova Link Expressway, and the crowded Carbon Public Market.
Elements of the Explosives and Ordnance Disposal teams and the Special Weapons and Tactics scanned the Cebu City Hall and the Qimonda buildings but found no explosives. (PNA)