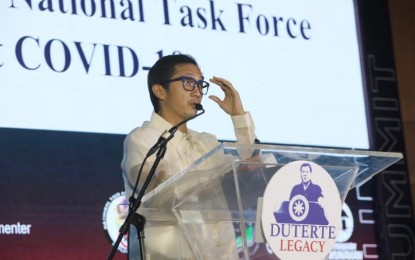 MANILA – Actions speak louder than words and the results speak for themselves, Presidential Adviser on Covid-19 Response, Secretary Vince Dizon, said of President Rodrigo Duterte's administration.
Dizon said "talk is cheap" and he considers himself "very fortunate" to have worked with the economic team and the "Build, Build, Build" team for five years.
"I can tell you that under the leadership of the President, under the leadership of (Finance Secretary) Sonny Dominguez, (Transportation) Secretary Art Tugade, former (Public Works) Secretary and now senator-elect Mark Villar, and of course, our Executive Secretary, Salvador Medialdea, no one exemplifies those three quotes better than the economic team and the 'Build, Build, Build' team. So please let us give credit where credit is due and these are the men who exemplify the best of public service," Dizon said at the Duterte Legacy Summit at the Philippine International Convention Center in Pasay City on Monday.
Dizon lauded the Duterte administration's "unprecedented" whole-of-government approach among national agencies, local government units, and the private sector to combat the impact of the Covid-19 pandemic for more than two years now.
"I dare say, if not for the very bold, decisive, and swift action of the President and the likes of (vaccine czar) Secretary Carlito Galvez, (Local Government) Secretary Ed Año, (Defense) Secretary (Delfin) Lorenza, and (Health) Secretary Francisco Duque, we would not be here where we are today," Dizon said.
"That unprecedented whole-of-nation call of the President signaled unprecedented cooperation," he added.
After years of dealing with the health crisis, Dizon said the government has brought back jobs, businesses, and normal operations of the transportation sector.
He also praised the "unprecedented" cooperation and partnership of the private sector with the government to further boost the pandemic responses, including the building Covid-19 testing laboratories and treatment facilities, as well as ramping up the vaccination program.
The National Task Force Against Covid-19, led by Galvez, has been at the forefront of the vaccine procurement and inoculation program, Dizon pointed out while recalling that they "met a lot of criticisms in the beginning".
The government's massive and collaborative efforts allowed the Philippines to acquire over 200 million doses of Covid-19 vaccines, he added, noting that supplies are more than enough for the protection of Filipinos against the dreaded disease.
To date, the Philippines has administered 151,648,507 Covid-19 doses nationwide, with 70,820,093 fully vaccinated and 14,084,991 with first booster shots.
The country's average daily vaccination rate has increased to 299,759 doses for the past seven days, compared to around 100,000 doses in the previous weeks leading to the elections. (PNA)