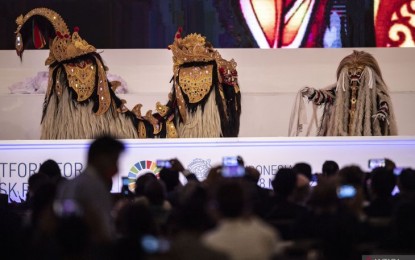 BADUNG, Bali – Indonesia is planning to mainstream the Bali Agenda for Resilience at the G20 meeting this year, and Asean Summit in 2023 following the 7th Session of the Global Platform for Disaster Risk Reduction (GPDRR) in Bali.
The agenda stresses the significance of local context and wisdom in addressing all disaster risks in the future, the head of the National Disaster Mitigation Agency (BNPB), Lt. Gen. Suharyanto, said in Badung, Bali, on May 27.
"Indonesia will also consistently mainstream the Bali Agenda for Resilience within the framework of the Indonesian leadership in the future, including its G20 presidency and as chair of Asean in 2023," he said.
The 7th Session of the GPDRR, held from May 23-28, 2022, released the Bali Agenda for Resilience intending to keep the world from facing 1.5 disasters a day by 2030.
For six days, representatives from at least 184 countries gathered in Bali to review efforts to protect communities from the rising number of climate hazards and other catastrophes around the world.
At the GPDRR, only 95 countries reported having multi-hazard early warning systems that give governments, agencies, and the general public notice of impending disaster, with coverage particularly low in Africa, Least Developed Countries, and Small Island Developing Countries.
Suharyanto said the agenda may make a significant contribution to the Asia-Pacific Ministerial-Level Conference on Disaster Mitigation in September 2022, the High-Level Political Forum on Sustainable Development, and the mid-term review of the Sendai Framework in 2023.
The Indonesian government made concerted efforts to make this year's GPDRR inclusive, he added. This is evident from the high participation rate of delegates with disabilities compared to the 2019 GPDRR.
"This time, Indonesia warmly welcomes the presence of more than 200 colleagues with disabilities," he said.
Indonesia has also designated a special priority zone for registration and checked all official accommodations to facilitate delegates with disabilities, he added.
Indonesia also successfully maintained women's participation in the GDPRR session.
"This time, at least 40 percent of the participants were women. They came both as panelists and delegates," he said.
Indonesia also implemented strict health protocols during the GPDRR to prevent the spread of Covid-19, including encouraging all participants to wear masks, wash hands, and keep a physical distance.
Participants were also required to take PCR tests before the opening and closing ceremonies of the event. (Antara)